Editor's Note: Today's post is written by Betsy Schack, OTR/L. Betsy is an occupational/hand therapist at Athletico Skokie and Athletico Park Ridge.

April is just around the corner. Hopefully the winter coats will soon be back in storage. April is also National Occupational Therapy Month! If you're reading this blog you've most likely heard of physical therapy. Maybe you've needed physical therapy after you broke your ankle or for the arthritis pain in your knee. Among many other services that Athletico provides, occupational/hand therapy is quickly growing and currently provided at 29 of our 72 locations.
In honor of National Occupational Therapy Month, below are the most commonly asked questions people have about occupational/hand therapy.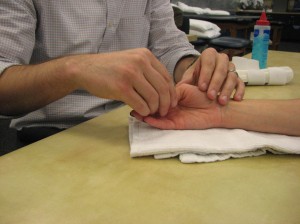 What is the difference between occupational/hand therapy and physical therapy?
Most people are familiar with physical therapy, but have never heard of occupational/hand therapy. The two specialties have a lot in common, but the main difference is that physical therapists treat the shoulder, neck, back, hip, knee, ankle, and foot, while the occupational therapists at Athletico have extensive training in treating conditions of the upper extremity (including the shoulder, elbow, wrist, and hand). Our OTs also have an average of 12 years of experience treating only these conditions and have completed advanced study of the anatomy and physiology of the structures of the upper extremity. Athletico OTs have insightful knowledge of hand surgeons' protocols to treat pain and injuries. This makes them uniquely qualified to be a terrific member of the rehabilitation team addressing your injury – the physician, the therapist, and you!
Does occupational therapy mean the same thing as job therapy?
The goal of occupational therapy is to get you back to being as independent as possible with your activities of daily living (ADL) or anything that occupies your time, not just your job. Whether your goal is to get back to work, get back to performing daily functions such as dressing, driving, feeding yourself, or participating in leisure interests, your OT will incorporate your goals in the therapy plan and tailor your treatment to achieve these. Athletico also utilizes FOTO (Focus on Therapeutic Outcomes) to measure functional patient outcomes and patient satisfaction with national data comparison. This allows us to ensure that patient goals are being met and allows us to respond to our patients' needs by utilizing individual outcome reports.
My doctor wrote me a prescription for occupational/hand therapy. Can I still see a physical therapist?
This depends on why you are coming to therapy. If you have had a hand, wrist, or elbow surgery it is important that you make every effort to see an occupational/hand therapist. Upper extremity surgeons have very specific protocols that need to be followed and modified by skilled upper extremity specialists. When you call to schedule your appointment, be sure to tell us that you have been referred to occupational/hand therapy so that we can schedule you with the appropriate therapist.
What are some of the common conditions that an occupational/hand therapist at Athletico will treat?
The following list includes some of the most common conditions but is in no way all inclusive. If you have a question about whether your condition should be treated by one of our occupational/hand therapists, do not hesitate to call your nearest Athletico location.
Carpal tunnel syndrome
Ganglion cyst
Trigger finger
Sprains, fractures, and dislocations (finger, wrist, elbow)
Hand pain
Tennis Elbow (lateral epicondylitis)
Golfer's Elbow (medial epicondylitis)
Trauma to the hand
DeQuervain's
Dupuytren's Disease
Burns
Amputations (of the upper extremity)
Cubital tunnel syndrome
Post stroke weakness, fine motor coordination deficits
Wound care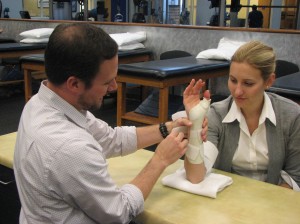 My doctor said I need an orthosis (splint) made. Can an occupational/hand therapist at Athletico do this for me?
Yes! Our occupational/hand therapists are trained and equipped to make custom fabricated orthoses at all of the locations that offer occupational/hand therapy services. Orthoses can range from finger based, to wrist immobilization orthoses, to a full arm orthosis. Most of these devices are covered through your insurance plan, but our office coordinator will verify this before your orthosis is made.
There are an increasing number of Athletico clinics that provide occupational/hand therapy services to meet the needs of our patients. If you are not sure that occupational/hand therapy is appropriate for you, we would be happy to see you for a complimentary injury screening to evaluate the appropriateness of this service for your condition.
Click here for a complete list of Athletico locations providing occupational/hand therapy.
Happy Occupational Therapy Month!