Adding 3D "Fun"ction to Your Walk or Run: Part 1
3 Comments
Now that warmer weather is finally here, we are all stir crazy to get outside and start having some fun in the sun. A simple and easy way to have fun in the sun with exercise is to start a walking or running program. In the spring and summer months you'll see walkers or joggers on the lakefront, in the parks, on the sidewalks, along a forest or preserve trail, and sometimes even in the streets. Because walking and running are inherently familiar to most of us, we don't often think outside the box and try to incorporate ways to make it better or safer. So today we will not only review some basics, but we will show you how and why to add a 3D component to not only your walk and run but also to your pre-activity warm-up and post-activity stretching routine.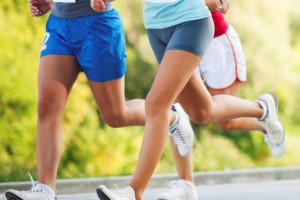 Before we get into our 3D discussion, let's take a quick second to review some pre-walk/run basics:
Check your footwear. Look for signs of wear and tear and also take a second to feel the cushioning to be sure that the midsole is still springy enough to give you the right support. Some people replace footwear based on mileage (usually 300 to 500 miles of walking or running), some base it on age (usually replacing around the 6 month mark), and others go by feel (experiencing atypical soreness, twinges, aches, or pains not usually present in the hips, knees, feet, etc.). If you to decide it's time for a new pair, consider donating your gently used shoes to Athletico's annual Share Your Souls Shoe Drive, where a local non-profit organization then distributes these shoes to impoverished or underprivileged communities in need.
Wear the right clothing. Comfortable, loose, and breathable are often best, and there are many great dry fit or wicking products currently on the market to choose from. Also consider some type of light or reflective wear if you are running or walking at dusk or in the early morning hours when visibility may not be as good.
Protect your skin by remembering to put on sunscreen.
Stay hydrated by drinking water before, during, or after based on the temperature, your need, and personal preference.
As always, check in with your doctor before starting any new exercise routine.
Now let's have some fun and explore the hows and the whys of adding 3D or a functional component to your walk/run or really any exercise for that matter. The term "3D" is becoming increasingly common since we live in an age where we have 3D movies, puzzles, books, printers, and even television. Why is there such a love for all things 3D? It's fun, engaging, makes things "pop" out at you, adds interest/excitement, and makes one feel like they are actually part of the action. Our muscles are really no different. Though some may function more in one certain plane of motion, in actuality, all of our muscles live, breathe, and function best when they are able to effectively move and work in multiple planes – hence the term "3D". These three planes of motion are called the sagittal, the frontal, and the transverse planes.
To break those 3 directions down into simple terms, consider a desk globe. A typical desk globe spins on an axis. If that axis is in a vertical – or up-and-down – direction, then the globe spins or rotates right to left, which would be the transverse plane. If the axis is horizontal – or from left to right – the globe would spin/move front to back, or what we call the sagittal plane. Lastly, if the axis went through the globe from front to back, then the globe will tip or move from side to side/left to right, which in anatomical terms we call the frontal plane. If you are a more visual person, watch the short video below, which will show you the sagittal, frontal, and transverse planes in action.
To make sure you've got it down we have listed some activities below.  Take a minute to tell us if the activity is predominantly in the frontal, sagittal, or transverse plane in the comments below. Not only will you reinforce what you just learned, but for everyone who responds with the correct answers, you will be entered in a drawing to win an Athletico prize. Entries will be accepted through September 9. Leave us a comment, and don't forget to share this with your friends or family so they can also get educated and be part of the raffle action!
Jumping jack
Golf swing
Doing "the wave" at a Bears game
Hoola hoop
Doing the hip bump
Mixing a bowl of cookie dough
Getting water out of your ear
Bowling
Throwing a Frisbee
Baseball swing
Stay tuned for Part II where we will explain why 3D is important for your muscles, health, and overall fitness. You will also get some useful videos demonstrating how to 3D your warm up, walk/run, and post-exercise stretch routine. See you next time!