A Variety of Ways to Position Your Pillows to Reduce Pain
18 Comments
Patients often report difficulty sleeping as a result of having pain when they lay down in bed. In response, therapists will commonly ask the patient what position they sleep in, how they position their pillow(s), and how many pillows they like to use.  Pillow positioning is a strategy that can be different for each individual.  Below are a few of the many examples of ways to position your pillows to reduce and prevent pain and improve your body alignment for a better night's sleep!
 Pillow with a Towel Rolled Up at the Base:
Take a large beach towel, roll it up and place it in the base of your pillow.  The roll will provide a great place to rest the groove of your neck, keeping your spine in alignment.  This roll will work if you are lying on your back or if you lay on your side and often works very well for people with neck pain.
Pillows Positioned the Long Way: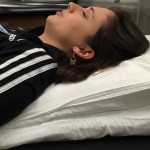 Sometimes placing pillows the long way helps keep the body in a less painful position. This is a good way to be slightly propped up for those who may have respiratory issues.  Place the pillows all the way down under your shoulder blades and not just under your neck.
Pillows placed long ways with pillows under head, neck and shoulder blades.
Body Pillow for Sleeping Semi-Prone: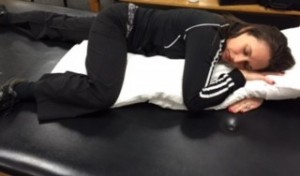 Body pillows or lining up a row of pillows to hug is a great solution for many types of pain.  If you cannot lay directly on a shoulder, but you like to sleep on your side this may be a good strategy.  This strategy also works well for those who like to lay on their stomach, but cannot at the current time.  Place the body pillow next to you.  Roll over on top of it, but only half of the way, while draping your top leg and arm up over the top.
Pillow Placed Between the Knees: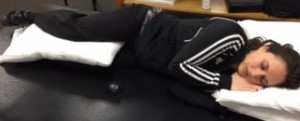 If you are a side sleeper, a pillow placed between your knees is recommended.  When laying on your side, a downward slant naturally occurs from the side of the hip down to the knee.  This places stress through your hips, often resulting in pain.  Placing a pillow between the knees helps prevent the downward pull on the hip, lining the knee and ankle with the hip.  Positioning the pillow this way is also important after hip or knee surgery.  If you have to lay on one side versus the other, and are concerned you may roll over, place pillows behind you in this position.  When you try to roll over, the pillows will stop you and remind you to stay on that one side.
Pillows Placed Under the Knees: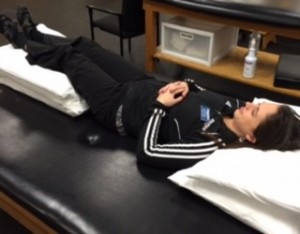 Some people who have back pain feel best laying on their stomach, some on their stomach with one leg bent up to the side, and some people feel best on their back with the legs elevated.  Placing pillows the long way under your knees and ankles can offload the spine, when laying on your back, providing good pain relief.  This is also a good position for those who are told they have to sleep on their back after a variety of surgeries.
Pillow Under the Arm/Shoulder: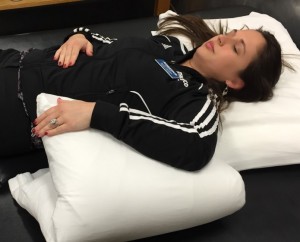 After shoulder surgery, laying in bed can be difficult.  Laying on your back without pillow support allows the arm to fall backwards onto the bed, often an uncomfortable position.  Placing a pillow under your arm or behind your arm to support the shoulder may help quite a bit.
Creativity with your pillows can go a long way to help prevent and reduce pain of many parts of the body.  If you are having pain while in bed, ask your therapist what sleeping and pillow positions are best for you.  Post your favorite pillow position and share other creative ideas below!
If you would like to learn more from an Athletico physical therapist, please use the button below to request an appointment at a location near you!
Click to Request an Appointment Today
The Athletico blog is an educational resource written by Athletico employees. Athletico bloggers are licensed professionals who abide by the code of ethics outlined by their respective professional associations. The content published in blog posts represents the opinion of the individual author based on their expertise and experience. The content provided in this blog is for informational purposes only, does not constitute medical advice and should not be relied on for making personal health decisions.