Athletico is committed to providing personal and professional growth opportunities for our staff through our involvement with numerous charitable organizations. Through these opportunities, our enthusiastic and dynamic staff take an active role in building better communities where we live and work.
Athletico is proud to contribute to many community organizations and causes that matter. Giving back is among Athletico's core values, which is why our staff makes it a priority to volunteer and support fundraising initiatives every year.
Throughout 2017, Athletico employees supported the community by providing pre- and post-race stretching, injury prevention and educational lectures, massage therapy, athletic training services, injury screenings, monetary contributions and in-kind donations. Staff participated in many different charitable efforts, from going on mission trips to hosting food and supply drives. These events impacted countless people throughout communities we serve.
Read below for details about some of the ways Athletico and employees gave back in 2017.
PT Day of Service
Every October Athletico celebrates National Physical Therapy Month as a way to recognize our hard-working therapists and the positive impact physical therapy has on people's lives. During this month, our staff also make it a priority to participate in PT Day of Service (PTDOS), which is a global initiative that encourages physical therapists to give back and make a positive impact in their community. In 2017, our staff participated through an assortment of activities, from fundraisers for a local Children's Hospital to corporate donations to cleaning up highways. Click here to read more about our 2017 PTDOS initiatives.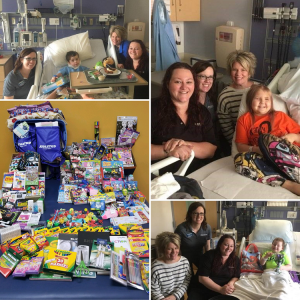 ---
Free Baseline Concussion Testing through A Step aHEAD
To combat concussions in young hockey players, Athletico continued its partnership with the Chicago Blackhawks and the Amateur Hockey Association of Illinois (AHAI) for the A Step aHead initiative. Through A Step aHead, Athletico provides free baseline concussion testing to AHAI members ages 13-18. In addition, Athletico supports educational lectures throughout the community, including providing information on concussion signs, symptoms and treatment options.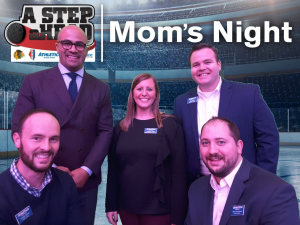 ---
Arthritis Foundation
Athletico has been supporting the Arthritis Foundation for nearly 20 years. Arthritis is one of the most prevalent chronic health problems and the leading cause of disability among Americans over age 15, and Athletico is dedicated to supporting patients who are fighting the disease. Athletico has partnered with the Arthritis Foundation not only through treatments in our clinics, but also with annual donations to assist the Arthritis Foundation in its mission toward prevention, control and finding a cure.

Athletico gave a $20,000 corporate donation at the 2017 Arthritis Foundation Black Tie Gala and has been proud to team up with the Arthritis Foundation with an annual Jeans Day fundraiser.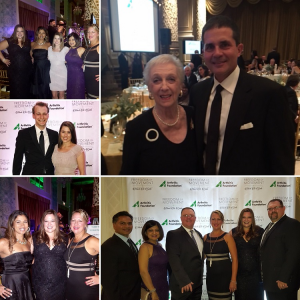 ---
Big Brothers Big Sisters Tailgate Fundraiser
Athletico was proud to be the title sponsor of the 11th Annual Tailgate Party, which supported Big Brothers Big Sisters of Metropolitan Chicago (BBBSMC). Athletico's President/CEO and founder Mark Kaufman and his wife Mary Ann hosted the event. More than 200 people attended, and over $115,000 was raised. These donations will allow BBBSMC to create and support more than 50 new one-to-one mentoring relationships!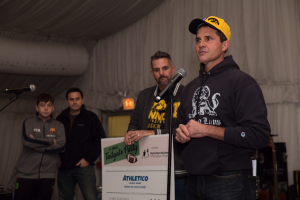 ---
Jeans Days
Athletico employees have the opportunity to donate to a different charity every month in exchange for a jeans day. In 2017, Athletico employees gave back to 12 different charities and raised close to $50,000.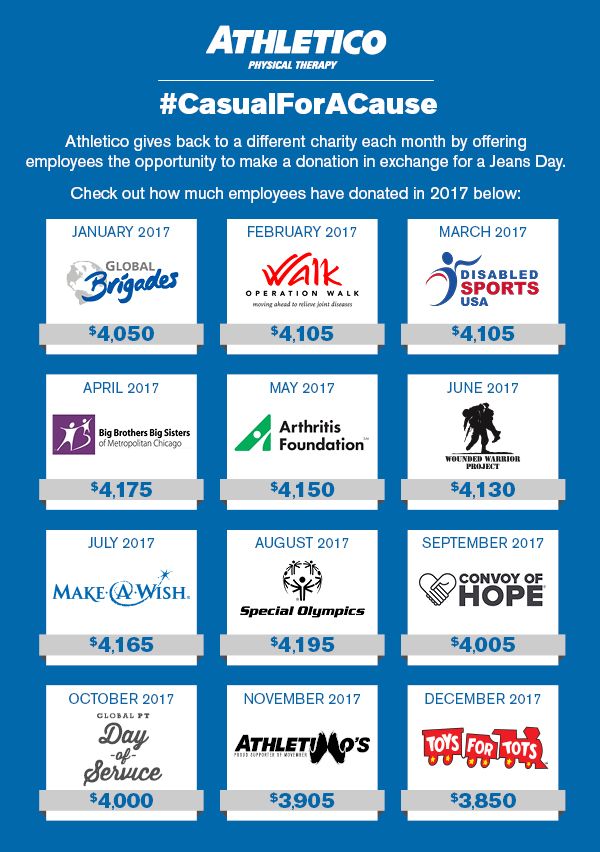 ---
Movember
Every year during November, Athletico creates an "AthletiMos" team to raise funds for the Movember Foundation. The goal of the Movember Foundation is to have an everlasting impact on the face of men's health. This year, the AthletiMos team raised over $7,000.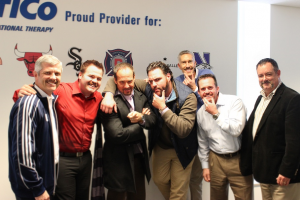 ---
10th Annual Chicago Hornets Youth Sled Hockey Game
Athletico has teamed up with the Chicago Hornets Youth Sled Hockey team over the past 10 years to play a fundraising game during National Athletic Training Month. This year's game was held on March 20th at Mount Prospect Ice Arena. In addition to a $3,000 corporate donation, Athletico provided an educational component to this event by giving each parent information centered on concussions, overhead injury prevention and proper helmet fitting.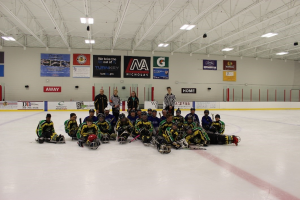 ---
Food, Supply and Blood Drives
Throughout the year, Athletico's Resource Center, Billing Center and individual clinics put together food and supply drives to support those in need. For instance, our La Grange area staff supported a food drive for St. Cletus Parish in April, while our Indianapolis Broad Ripple staff held a supply drive to support Joy's House in May. Athletico's Resource Center also participated in the Salvation Army's Angel Tree program, which collects donations for families in need during the holiday season. Lastly, Athletico's Billing Center and a variety of clinics also hosted blood drives in 2017.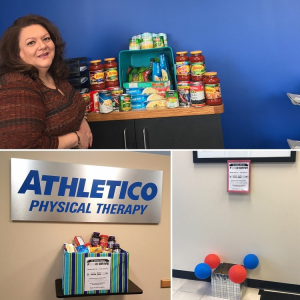 ---
Global Medical Brigades
For the past 10 years, Athletico employees have been traveling with the Global Medical Brigades to provide medical care to remote rural communities. Athletico supports this medical mission by holding a jeans day fundraiser, as well as by making a corporate donation to purchase medical supplies and help offset the volunteer costs of the trip. In 2017, a group of 18 Athletico volunteers traveled to Nicaragua to provide medical and dental care to 792 under-served people in rural communities.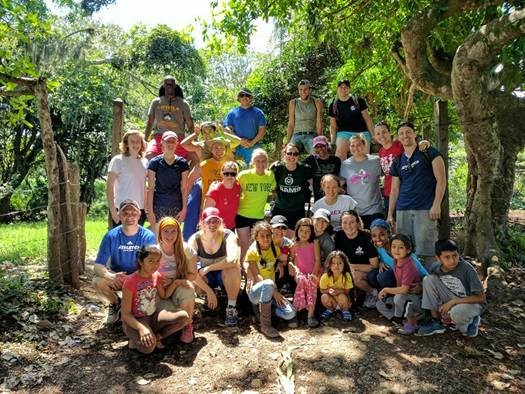 ---
Equipment and Monetary Donations
On behalf of Athletico, CEO and President Mark Kaufman made a variety of equipment and monetary donations to different organizations throughout 2017. This includes donating equipment and supplies to the University of Iowa's Athletic Training education program, as well as to Aspire Chicago, which is a non-profit program that supports the successes of children and adults with developmental disabilities.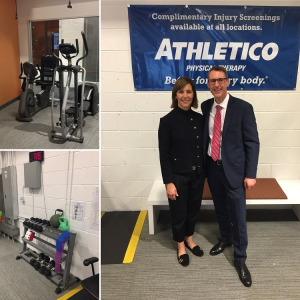 ---
Chad Tough Fundraiser
In September, Athletico Regional Manager R.C. Edwards and Athletico put together a fundraising event benefiting The ChadTough Foundation. The mission of the ChadTough Foundation is to fund research and raise awareness for Pediatric Brain Tumors, specifically DIPG (Diffuse Intrinsic Pontine Glioma). A variety of former University of Michigan players and coaches attended the event, as well as Head Athletic Trainer Paul Schmidt and Football Equipment Manager Jon Falk. In total, $24,850 was raised! Athletico was proud to be the title sponsor of this event.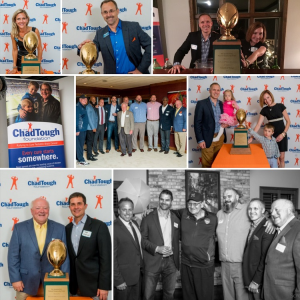 ---
A Commitment to Our Communities
Athletico's charitable giving initiatives are driven by a commitment to the communities we serve. We appreciate the support from all of the patients, partners and employees that help us in giving back to those in need each year.
"You don't always realize how little it takes to make a difference. Life is full of little ripples that make big waves of change, and I am proud of the ripples we made," – Erica Ames, Athletico Regional Service Manager.