Move Your Workouts Indoors with Resistance Bands
1 Comment
In this current environment of the pandemic, some of us are still wary of going to a gym to continue with our fitness routine. Home workouts can grow stale fairly quickly, and we can be unsure of how to proceed. After all, there are only so many ways we can use our bodyweight and products at home to come up with exercises. Several blog posts have been created to get you started with at-home fitness, and this blog will look to expand upon those entries.
Resistance bands are a great way to challenge your body in new ways and bring a new spark to your workouts. Not only are they a great way to get a new stimulus, research shows that they are just as effective as conventional resistance training.1 Due to the nature of how resistance bands work, they often unload the hardest part of the exercise and overload the strongest part, matching the strength curve of many muscles and making the movements more comfortable. The two most popular types of resistance bands are closed-loop bands and normal resistance bands. It is also important to note that different manufacturers make different levels of resistance in their bands and color code (different manufacturers use different colors at different levels). It's important to find the resistance (or color) that works best for you.
The options for exercises are endless and with some creativity you can set up the bands in different ways to evolve to even more exercises. Below you will find a few of my favorite exercises to get you started, ones that I think are the best bang for your buck. Other exercises will be listed for your reference, but not pictured for an increased pool of exercises to choose from. Please note, the indicated reps and sets for each of the below exercises are recommendations only. Depending on your level of resistance band and current fitness level, you may need to adjust the intensity to safely meet your exercise goals.
---
Row
Keep a tall posture with your core and glutes tight.
Make sure to squeeze your shoulder blades down and back.
You should feel your back and bicep squeezing hard at the end position.
3 sets of 15 reps works well with this exercise.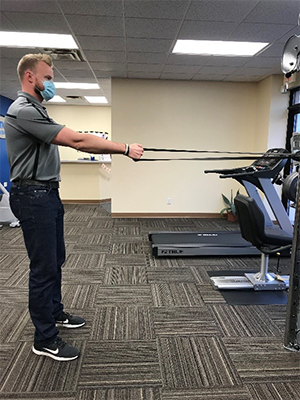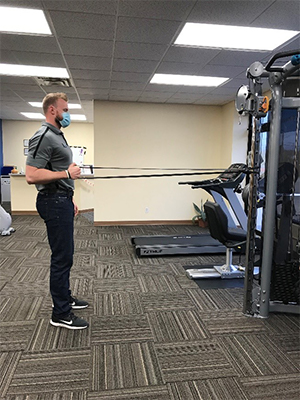 ---
Push-up
Keep your core and glutes tight, you want to be a pillar.
Lower slowly and pause at the bottom, hovering just above the ground.
Push the ground away from you as hard as you can, you should feel your chest muscles squeezing hard on the way back up, imagine trying to push your elbows together during this to increase the stimulus.
4 sets of 8 reps work well since we want this exercise to be higher intensity.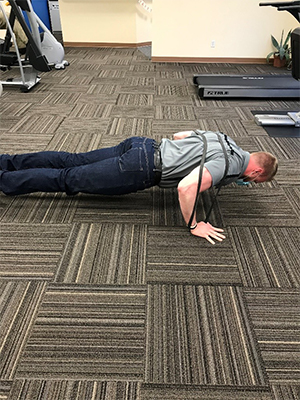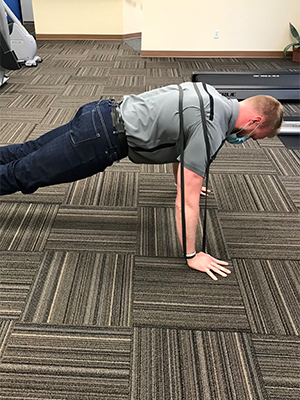 ---
Squat
Keep your torso at a comfortable angle.
Slowly lower yourself to the bottom position, you should feel some tension in your glutes.
You should feel your thighs and glutes tense up on the way down.
3 sets of 20 reps work well with this exercise, just make sure to pause at the bottom position.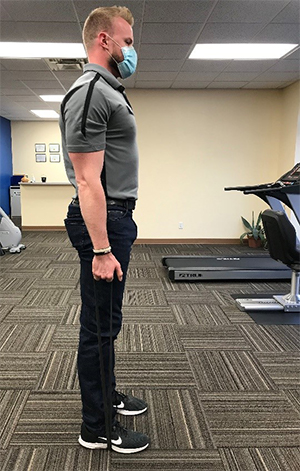 ---
Lateral Walk
Keep a slight bend in your knees, and slight forward lean with your torso.
Start with a wide base, keep your feet forward, and take small steps.
Your glutes should feel an intense amount of work being done, this is okay to feel.
Stay facing the same direction and begin side stepping one way for 20ft, and then return to the beginning. This is one rep, do four.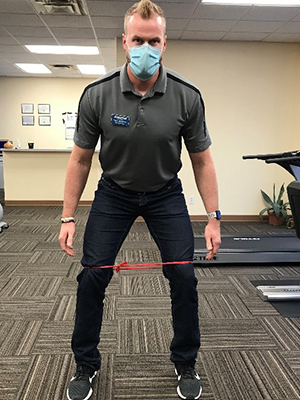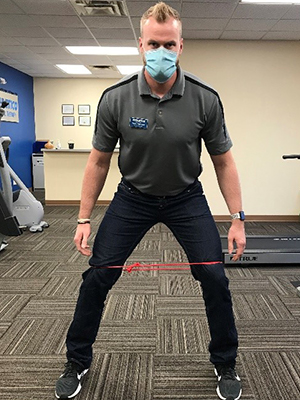 ---
Shoulder Raise
Have a slight forward lean in your torso.
Pull your arms up to a comfortable position, somewhere between your hands or your elbows in alignment with your shoulders.
You should feel this in your shoulders, and maybe into your upper trap muscles. This responds well to high reps, do 3 sets of 20.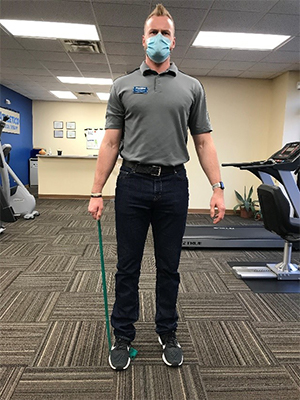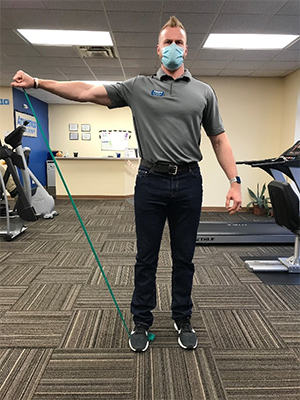 ---
Hip Hinge
Imagine pushing a door closed with your bottom as you lower yourself down.
Keep your back as straight as you can comfortably.
You should feel your glutes and hamstrings working hard with this exercise. Try doing 4 sets of 10 reps.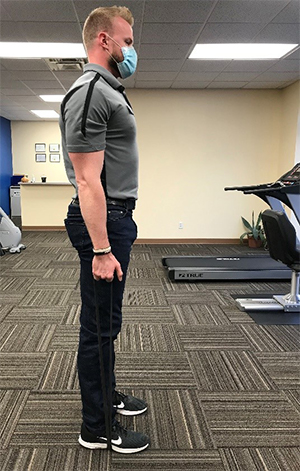 ---
The following exercises are not pictured, but great options to consider to add to your workout:
Chest press
Bicep Curl
Triceps press down
Bridge
Shoulder extension
Triceps kickback
Single-arm chest fly
Hamstring curl
Knee extension
There are many more exercises out there to use resistance bands that weren't shown or listed here, the options are almost limitless! Resistance bands are a great way to get in quality workouts at home or supplement between your normal weekly workouts. While conventional resistance training will remain the best way to increase muscular strength and size, resistance bands are easily accessible, very portable and highly adaptable to the individual, making them a fantastic tool to train with. If you are starting a new workout routine, including one with resistance bands, and experience any aches or pains, contact your local Athletico to schedule a free assessment. Free Assessments are available both in-clinic and virtually through our telehealth platform.
Physical therapy is usually the thing you are told to do after medication, x-rays or surgery. The best way to fix your pain is to start where you normally finish – with physical therapy at Athletico. Schedule a free assessment in-clinic or virtually through a secure online video chat where our team can assess your pain and provide recommended treatment options.
The Athletico blog is an educational resource written by Athletico employees. Athletico bloggers are licensed professionals who abide by the code of ethics outlined by their respective professional associations. The content published in blog posts represents the opinion of the individual author based on their expertise and experience. The content provided in this blog is for informational purposes only, does not constitute medical advice and should not be relied on for making personal health decisions.