Learn How Physical Therapy Gave Me Peace of Mind
Leave a Comment
As a runner, I have been extremely fortunate to not have any major injuries over the ten years that I've been participating in this recreational activity. It's become a passion and recently, a form of therapy to help curb stress and keep me active during the COVID-19 pandemic. This past summer, I completed many virtual runs – from 5Ks to half marathons. In November, I completed a 15K and was shocked when I started to feel pain and a "popping" in my hip.
Fast forward to the New Year, I've committed to investing in my health and decided to get this long-standing problem checked out and more importantly, not wanting to re-injure myself the next time I take off on a long run. Knowing Athletico offers a Free Assessment at no cost and not needing a doctor's referral to start, I went to my local clinic and this is what happened.
Check-In and Safety Screening
Upon arrival, I check in with Bridget at the front desk. She takes my temperature and asks me a series of questions to be sure I haven't been in contact with someone that may have been exposed to COVID-19. Previous to arriving to my scheduled appointment, I filled out a brief questionnaire covering my reason for visiting and provided my insurance information. From there I was able to schedule my designated free assessment time.
Meeting the Team and Discussing My Reason for Visit
I'm greeted by my physical therapist named Carson. He welcomes me with a masked smile and walks me to a clean station where we'll begin my Free Assessment. He starts off by asking me a series of questions about how often I run, average mileage along with my daily activities and the timeline of when I started to experience the issue regarding my hip. He carefully listens as he takes notes in his laptop, asking me to explain the pain I was experiencing, if it was a sharp pain and how often I hear the popping sound. He also asks if I've had any back pain and if it was specific to one side or more wide-spread.
Testing My Strength and Balance
Next, Carson asks me to walk around the clinic and studies my gait (my manner of walking) and also asks me to balance on each leg. I wobble as I stand on my left leg – the side where I had been experiencing my hip issue. He asks me to perform a squat and a single leg squat – one on each leg. Again, I'm wobbly on my left side. I'm back on the table as Carson runs through a series of checks testing my strength, moving my leg and asking if I feel any pain or any discomfort in my hip as he does so.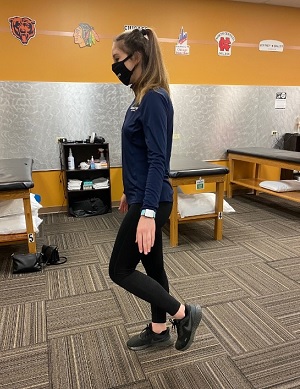 Learn Treatment Options, Prognosis and Recommendations
As Carson finishes up his assessment, he identifies the source of my hip problem and provides his treatment recommendations. During your Free Assessment, your physical therapist will develop a tailored plan based on the severity of your pain/injury along with your goals. This is not limited to, but might include patient education around self-management of your injury, the recommendation of physical therapy or the immediate referral to a local physician who specializes in the management of injury.
How Physical Therapy Gave Me Peace of Mind
I left the clinic with everything I need to self-manage my issue and most importantly, I left with the peace of mind knowing that my hip "popping" isn't a bigger problem, one in which I would need further physical therapy or a referral to a physician. I'll continue my running, monitoring how I feel as I increase my mileage when the weather breaks toward spring and also keep up with self-management practices. I realize I am very lucky to have no significant problems and to be able to get back to the activity I love the most. And if I do experience further pain, I know exactly where to go.
After such a difficult 2020, I hope you reflect on your health and check in with your local Athletico Physical Therapist if you are experiencing any aches, pains, sprains or strains. It's a great way keep you at your best to ensure a pain or injury doesn't develop into a larger issue.
Free Assessments are available in-clinic or virtually through our Telehealth service.
Physical therapy is usually the thing you are told to do after medication, x-rays or surgery. The best way to fix your pain is to start where you normally finish – with physical therapy at Athletico.
The Athletico blog is an educational resource written by Athletico employees. Athletico bloggers are licensed professionals who abide by the code of ethics outlined by their respective professional associations. The content published in blog posts represents the opinion of the individual author based on their expertise and experience. The content provided in this blog is for informational purposes only, does not constitute medical advice and should not be relied on for making personal health decisions.