The summer Olympics are fast approaching. I know I am extremely excited to watch all the events after the games were delayed last year due to the pandemic. Olympians are elite athletes at the top of their fields. They train for many years for a chance to qualify for this giant international competition. With this intensity and dedication to training, injury does occur. Here are just a few athletes returning to qualify for the Olympics after sustaining an injury and when to look for them during the Tokyo Olympics!
Sam Mikulak (Men's Gymnastics)
Sam is returning to his third Olympic games this year. He tore his Achilles in February 2017 and underwent the rehabilitation process to return to competition later that year in October in limited events. He went on to earn his first individual world championship medal in 2018 on high bar. Leading into this Olympic cycle, Mikulak has been open about current elbow and wrist injuries that he is managing during his training. Mikulak did announce his plans for retirement from competition after the Tokyo Olympics so be sure to watch him this year!1,2
Men's Gymnastics begin July 23, 2021.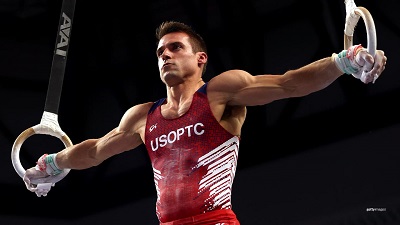 TeamUSA.org, Photo credit: Getty Images
---
Will Claye (Triple Jump, Track & Field)
Unbeknownst to most until recently, Will Claye tore his Achilles tendon last year. For any athlete, but especially for any athlete who needs to jump, the Achilles tendon is vital as it provides the push off for your jump. Claye has spent the past year rehabbing his Achilles in preparation for Tokyo. While Claye earned a silver medal in 2016 in Rio, fellow Team USA member Christian Taylor won the gold. Unfortunately, Taylor ruptured his Achilles last month, and will not be able to compete in Tokyo. Make sure to watch to see if this is the year for a gold medal for Claye.3
Track & Field events air July 29-August 7, 2021.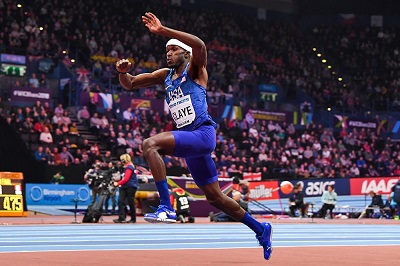 Photo credit: Track & Field News, GIANCARLO COLOMBO/PHOTO RUN
---
Tobin Heath & Julie Ertz (Women's Soccer)
Both Tobin Heath and Julie Ertz are returning with Team USA Women's soccer to the Olympic games. Heath suffered an ankle injury in January followed by a knee injury during rehab. Ertz had a MCL sprain in her knee more recently in May. The Medial Collateral Ligament (MCL) is a wide, thick band of tissue that runs down the inner part of the knee from the thighbone (femur) to a point on the shinbone (tibia). Both are hoping to be recovered by the Tokyo games.4
Watch them both and Team USA as qualification play gets underway.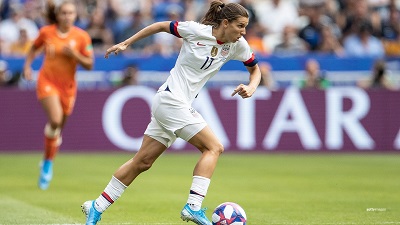 Tobin Heath, TeamUSA.org, Photo Credit: Getty Images
---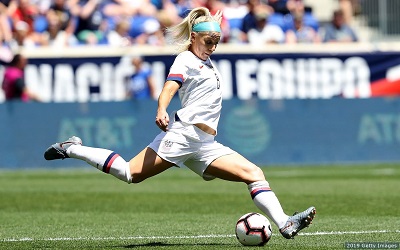 Julie Ertz, TeamUSA.org, Photo Credit: Getty Images
---
Trayvon Bromell (Track & Field)
Trayvon Bromell suffered injury at the 2016 Olympic games, leaving the track in a wheelchair in Rio. He had to have surgery for an Achilles tear and bone spur in his heel. He then had a second surgery in 2018 and additionally suffered an adductor injury to his inner thigh muscle that further complicated his recovery and training. During the Olympic trials this year, Bromell had a personal best in the 100m race. Will these Olympic games be a comeback for Bromell after leaving Rio in a wheelchair?5
Track & Field events air July 29-August 7, 2021.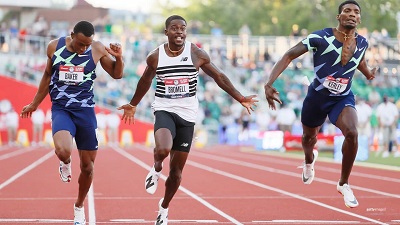 TeamUSA.org, Photo Credit: Getty Images
---
Chase Kalisz (Swimming)
Returning to his second Olympic team, Chase Kalisz has recently opened up about a shoulder injury from 2019. He describes shoulder pain and clicking during his swimming stroke that was difficult to overcome. The delayed Olympic games this year due to the pandemic in 2020 may help Kalisz with his preparation and recovery. Watch for him in the 200 and 400M events.6
Swimming events begin on July 24, 2021.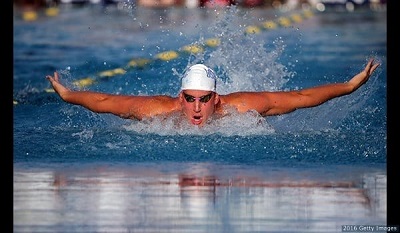 TeamUSA.org, Photo Credit: Getty Images
---
Thomas Jaeschke (Men's Volleyball)
In 2018, Thomas Jaeschke left a match with an ACL injury. After surgery and rehab, Jaeschke is returning to his second Olympic games this year. Eight of the twelve players on the team are returning to the Olympics.7
Men's volleyball competition begins on July 24, 2021.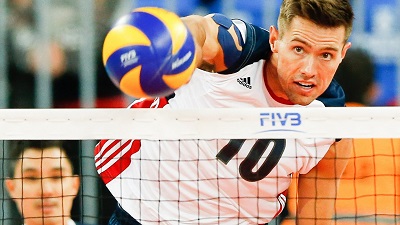 WGNRadio.com, Photo by Alexandre Schneider/Getty Images for FIVB
---
Good luck to all athletes competing! Be sure to watch the Tokyo Olympics starting July 23, 2021 through August 8, 2021.
The Athletico blog is an educational resource written by Athletico employees. Athletico bloggers are licensed professionals who abide by the code of ethics outlined by their respective professional associations. The content published in blog posts represents the opinion of the individual author based on their expertise and experience. The content provided in this blog is for informational purposes only, does not constitute medical advice and should not be relied on for making personal health decisions.