At the height of the pandemic, physical and occupational therapists started seeing a record number of repetitive strain injuries resulting from working from home. Many were sent home to continue working but were not prepared to do so successfully.
While working from home, I noticed how quickly I developed pain in my neck, wrist, elbow, and hand. Pre-pandemic, I often overlooked my symptoms because my time at a poorly designed workstation was short and temporary. However, with extended time working with bad posture, my pain symptoms increased and did not improve until I changed my workstation setup. In this blog, I hope to provide you with helpful information to keep you pain-free when working remotely or from your home.
Long-Lasting Effects of Poor Posture
As many of us were hurdled into working from home, there was no time to set up an ergonomic workstation properly. Alarming numbers of people are suffering from repetitive strain injuries to the neck, shoulder, elbow, and hand because of the poor ergonomic setup of the laptop, monitor, chairs, keyboard, and mouse.
Countertops, wooden doors across paint containers, and other makeshift workstations are unsuitable for adjusting the space to the human body. The ability to stay logged in for long hours with few breaks does not make the situation better. Soft tissue failures can manifest into pain. Our bodies let us know when they can no longer support the demands placed on them, and we need to respect the signals and address the problems.
Poor awareness of the hazards when working from home allows for the symptoms of dysfunction to fester. Extended periods with forward head, rounded shoulder posture, elbow, wrist, and hand strain contribute to pain, and tingling and numbness impacting work production and performance. Here are a few recommendations for maintaining a safe home workstation environment.
How To Set Up a Proper Ergonomic Workstation
Place the monitor at arm's length away and set it up at eye level or slightly below, directly in front of you.
Position elbows between 70-90 degrees of flexion for keyboarding and close to the body.
Maintain straight wrist, hands at or below elbow level.
Use a headset and or place a speaker close to avoid cradling the phone between the shoulder and neck.
Adjust chair height, so knees are about level with hips and use a lumbar back and or chair that supports spinal curves.
Organize commonly used items such as a telephone and a mouse close to the body to minimize reaching.
Make sure desk height clears the knees, thighs, and feet. Use footrests if the chair is too tall.
When possible, look away from the computer screen every 20 minutes to focus on an object a distance away.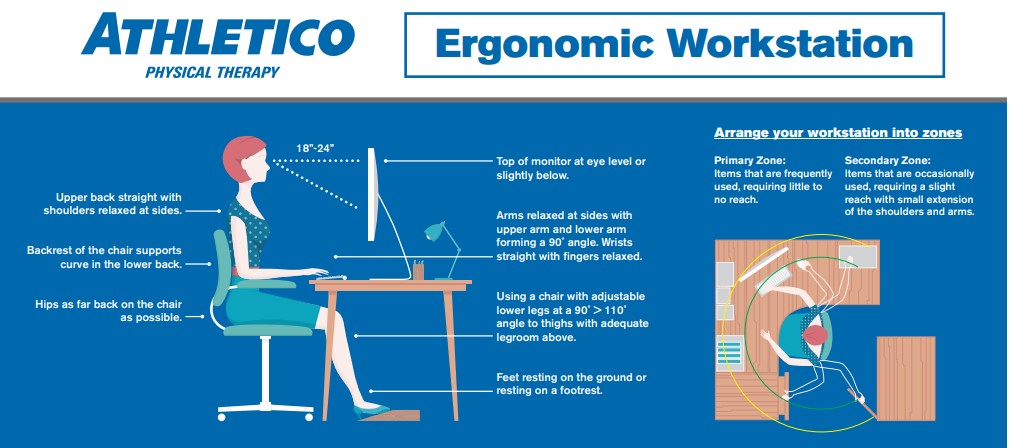 Additional Tips When Working from Home:
Use good time management techniques to make the most of your work from home days.
Be sure to pace your workload and flow.
Take a timed rest break to perform stretches and move/walk every 30-45 when you can.
Maintain boundaries and find a healthy balance between work and home life.
For a list of stretches to perform at your desk and that can help improve your posture, check out this blog.
Respect Pain
Our clinicians are available for in-home visits for further instruction on proper ergonomic setup recommendations and can help you manage any pain you may be experiencing. To get started, schedule a Free Assessment today. Free Assessments are available in-clinic and virtually through our Telehealth platform.
The Athletico blog is an educational resource written by Athletico employees. Athletico bloggers are licensed professionals who abide by the code of ethics outlined by their respective professional associations. The content published in blog posts represents the opinion of the individual author based on their expertise and experience. The content provided in this blog is for informational purposes only, does not constitute medical advice and should not be relied on for making personal health decisions.