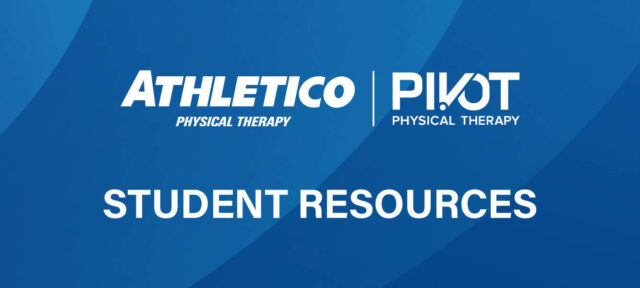 Be a Game Changer with Athletico
Choose from a vast menu of career options, curated for you. We partner with industry educational leaders and leverage in-house clinical experts so you can lead the way in patient care. Whether you want a leadership role, a flexible schedule, advanced clinical specialization, or to be a mentor, we provide the tailored resources and team support you need to achieve your professional goals. Click here to learn more about our specialty programs.
---
Upcoming Events
Our campus team is committed to your development and is excited to meet you soon! Whether you join Athletico or consider a career elsewhere, we're determined to help you explore the right path for you and help you grow along the way.
Student Events
Check out where we will be next and register for upcoming events
Are you a faculty member or a student leader at your university and want to bring our team or a clinician to campus for an event, lecture, or career fair? Email our team at collegerelations@athletico.com.
---
Shadow a Clinic
Spend time in one of our clinics with our job shadow/observation program. We often hear many misnomers about outpatient rehab. Spend the day with us and better understand our commitment to you and the patient.
To learn more about Job Shadow/Observation opportunities with Athletico, click the button below.
---
Career Conversations & Resume Reviews
We're here to help you along your academic and professional journey. We offer daily times to sign up with a member of the Campus Recruiting Team for a career conversation – to explore career paths or one on one resume reviews.
Sign up here:
---
Career Pathways
We employ over 5,000 expert clinicians, athletic trainers and other team members. In addition to physical therapy, we provide athletic training, occupational therapy, specialty programs and fitness services to high schools, colleges and professional sports teams. Our expertise also includes evaluating workers' compensation issues, like work conditioning, job-site analysis and ergonomic assessments. Learn whether physical therapy, occupational therapy, or athletic training is the right career path for you!
---
Student Webinar Series
Ideal for students and new grads, Athletico's Student Webinar Series explores a new topic each month tailored to job searching, exam preparation, and early career development. Tune in for free to hear from Campus Recruiting and leaders across Athletico.
---
Additional Resources
Learn more about all that Athletico has to offer!
---
Connect with Us
Stay up to date on upcoming events, open jobs, employee spotlights, and exciting news about Athletico! For additional information, contact collegerelations@athletico.com.
Find an Athletico.