Vestibular Physical Therapy: Treating the Cause of Prolonged Concussion Symptoms
by Athletico |
1 Comment
Editor's Note: Today's post is written by Ann Robertson, PT, MPT. See Ann's bio below.

It seems you cannot turn on the TV lately without hearing something about another professional athlete who is suffering from the effects of a concussion. A concussion is a serious brain injury and is very difficult to assess and treat as MRIs and CT scans are almost always normal. If not treated properly, these concussions can cause both short- and long-term problems. One treatment that is getting more and more attention is the use of vestibular physical therapy for individuals who have been concussed.
When someone first sustains a concussion, the initial treatment is rest. At that time they should be managed by their physician. Studies show that 80% of those who suffer a concussion have their symptoms go away completely within the first three weeks. Unfortunately, some people have symptoms that last even longer. Common symptoms include headaches, blurry vision, nausea, dizziness, noise and light sensitivity, balance difficulties, difficulty with concentrating, difficulty remembering, difficulty sleeping, and/or emotional symptoms. Oftentimes a concussed person will complain of difficulty with driving, difficulty with reading a computer, difficulty reading books, and difficulty changing gaze focus. One of the most common complaints that vestibular therapists hear is that they just feel "off" or "foggy."
Prolonged Symptoms: After Three Weeks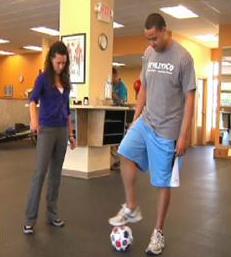 When someone continues to have any of these symptoms, he or she should follow-up with their physician. Some physicians may recommend beginning physical therapy as early as one week post-concussion depending on the symptoms, while others wait until the three-week mark to see if symptoms subside on their own. Vestibular physical therapy can then work on the balance difficulties, motion sensitivity, difficulty with reading and changing gaze focus, and difficulties with dizziness.
Before beginning a vestibular physical therapy program, the concussed individual will undergo a vestibular evaluation to test balance in a variety of ways. An example of a test is assessing eye movements and the ability of the eyes to track objects when the head is moving. It is important to note that every concussion patient presents a different combination of symptoms. The vestibular therapist will then create an individual program for getting the patient back to all of their previous activities or sports.
What to do if you feel you have prolonged concussion symptoms?
When a concussed patient continues to have prolonged symptoms, it may be overstimulating their vestibular system and doing more harm than good. If you or someone you know continues to have concussion symptoms after 3 weeks (for some individuals, the concussion may have occurred as long as 1 to 2 years ago with symptoms still being experienced), it is important to get assessed by a medical professional and find out if vestibular physical therapy may help you on the road to recovery.
*      *      *      *     *
Ann Robertson, PT, MPT, has been treating patients with vestibular symptoms including those suffering from post-concussive symptoms for almost ten years. She serves as Athletico's Vestibular Program Co-manager and works with numerous professional and recreational athletes. Ann was recently certified by Concussion Health to utilize the Biodex Biosway equipment to provide post-injury testing and vestibular rehabilitation for the MLB Umpires Concussion Center of Excellence.
Athletico has vestibular therapists trained in concussion management throughout the Chicagoland area. Find a location near you. For more information on Vestibular Rehabilitation and Concussion Management, watch Athletico's Concussion Management Video.