Suffering from Sciatica? Physical Therapy Can Help
53 Comments
Pain, numbness, and tingling down the leg is both something I treat daily and something I myself have experienced. Feeling concerned that these symptoms are here to stay and there is little you can do about these symptoms is common. Fortunately, physical therapy can be very effective in treating these symptoms most of the time. I am pain free and many of you suffering with sciatica-type symptoms can be too.
What Is Sciatica?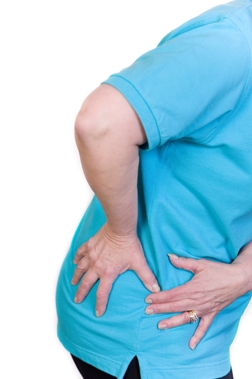 Sciatica is the symptom of pain down the leg that people may experience because of a low back  problem. The sciatic nerve starts at the low back and goes down the buttock and branches out through the back of the leg to the foot. Many reasons exist as to why the sciatic nerve may be symptomatic. Common problems resulting in sciatica may include a herniated disc, stenosis or narrowing of the nerve space, tightness in the hip, or misalignment of the pelvis. Sciatica symptoms may include pain, numbness, tingling, cramping, burning, and weakness in the muscles of the involved leg.
What Does a Physical Therapist Do to Help Sciatica Symptoms?
Physical therapists have many techniques/forms of treatment that may help. Treatment may include McKenzie-based mechanical diagnosis and therapy, muscle energy techniques, mobilizations, spinal stabilization and core strengthening exercises, nerve slides/glides, or traction. Often people will respond to moving in a certain direction. Some people with sciatica feel better with exercises moving in a backwards bending position, some in a bending forward position. Occasionally exercising in a neutral spine position is necessary. Sometimes we have a patient who responds best to rotating or shifting the hips sideways. The best therapy treatment for someone with sciatica varies greatly from person to person secondary to the many reasons the sciatica may be present. As a therapist, I cannot take a diagnosis of sciatica and know which exercises or manual therapy to provide someone immediately. I have to perform an evaluation to see how each individual will best respond to which treatment method. All patients are unique with their pain and presentation and each treatment should address each patient's specific needs.
What Should You Do if You Have Sciatica Symptoms?
See a physical therapist to determine which exercises or manual therapies are best for your specific pain. All of our facilities perform complimentary injury screenings. Therefore, if someone needs to see a therapist to determine specifically what needs to be done for his or her pain, you can see a PT or athletic trainer free of cost for a half an hour. The therapist or athletic trainer can help guide or make suggestions for future care. The earlier you get into therapy, the better the outcome may be. Research recommends seeing a physical therapist within 16 days of onset to optimize outcomes.
Read "Treat Your Own Back Book" written by Robin McKenzie. All of our Athletico facilities either have the book in stock or can order this book for you. If you would like to see a therapist in your area who is McKenzie-certified or trained, please let me know which city you live in and I can help find a clinician that will best fit your needs.
Watch your posture. Use a lumbar support when you sit and perform bending activities at the hips instead of at the low back.
Keep moving. Many people with sciatica symptoms put themselves on bed rest or think sitting in the lazy boy chair to rest is beneficial. Often the opposite is true.
Sciatica Success Story
One of my favorite memories of treating a patient was from one who was suffering from sciatica and low back pain. She had pain for 15 years prior to attending therapy. We were quickly able to find an exercise in a direction that relieved her symptoms. In just a few treatment sessions she was pain free, something she had not 100% experienced for so many years. She bought me the EASY button from Staples that would say "That Was Easy" when you pushed it. Not all cases are "easy" to crack in the case of sciatica, but in most cases there is a solution! Share your sciatica success stories below!