Today's blog post is written by guest blogger, Ryan Mertz, PT, DPT, CSCS. Ryan is also the Team Physical Therapist for the Chicago Cubs.

Much has remained constant in the game of professional baseball over the last 100 years, such as the distance from the pitching rubber to the plate, but significantly more has changed. Players are bigger, faster and stronger. Spectators know the speed and break of every pitch and that a ballpark hotdog costs an arm and a leg. With the progression of the game through technology, research and physical development standards, much of the lessons learned at the pro level have now trickled down into amateur baseball.
What once started off available exclusively to professionals, has made its way to the little leagues – a Video Throwing Analysis. A Video Throwing Analysis utilizes technology to capture a ballplayer's throwing motion so it can be broken down in slow-motion, making areas of improvement easier to pick up on as compared to only using the naked eye. While at the end of the day a Video Throwing Analysis is used to alter mechanics, the purpose can differ depending on who is performing them. If you're working with a pitching coach, the focus is generally on changing mechanics to improve performance. If you're working with a Physical Therapist or Athletic Trainer, the focus is more geared towards altering mechanics and improving physical parameters to reduce the risk of injury. Thankfully, coaches and clinicians work together and share their findings in the hopes of making the player perform better while reducing the risk of injury.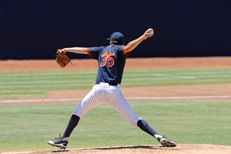 Baseball players are constantly working on refining the 5 tools (running speed, arm strength, fielding ability, hitting for average and hitting for power) that help get them to the next level of the game. A Video Throwing Analysis is an additional tool that can directly help a player develop. Some of the potential benefits of a Video Throwing Analysis include:
Improving mechanics to reduce stress, strain, and/or pain at the shoulder or elbow
Improving mechanics to lengthen a career
Improving efficiency and repeatability with the throwing motion
Increasing strength, flexibility, power and endurance if working with a PT, ATC
Educating players on things such as pitch counts, scheduled rest from throwing, starter's routines and off-season throwing programs that if done incorrectly can cause problems
For more information around Athletico's Video Throwing Analysis program and locations that provide this service, please click here.