Have you ever had low back pain?  Chances are you have had an experience in the past or are having one as you read this. Low back pain is experienced by approximately 70 percent of individuals in their lifetime.1 In fact, 1 in every 17 visits to a primary care physician is related to reports of low back pain.2 Combined, direct and indirect costs for low back pain are reported to be between 85 and 238 billion dollars, with costs continuing to rise.3
R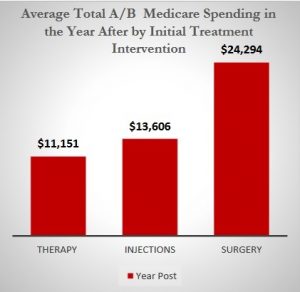 ecently, the Alliance for Physical Therapy Quality and Innovation (APTQI) engaged the Moran Company to assess different initial treatment interventions with a focus on cost for low back pain within the Medicare program.4 What they found was Medicare spending for those who received physical therapy (PT) as the first treatment option was 19 percent less than the total average Medicare spending for those receiving injections first, and approximately 75 percent less than those receiving surgery first.  Furthermore, the average total cost of care (including doctor visits, testing, treatment, etc.) for those who received PT as a first treatment option for low back pain was $11,151 in the year following diagnosis compared to $13,606 for those receiving injections, and $24,294 for those receiving surgery.
Let's take this one step further and look at whether it matters when patients are referred to PT. Medicare spending for those who were referred to PT within 15 days of diagnosis resulted in a $400 savings compared to those who were referred 45-90 days after diagnosis. Looking at the following year, those who were referred to PT within 15 days of diagnosis have downstream costs that are $3,500 less than those who received PT within 45-90 days. Take that $3,500 saved with early PT and multiply it by the size of the sample used for this study, 472,000 beneficiaries, and you get $1.652 billion dollars. I hope I have your attention now.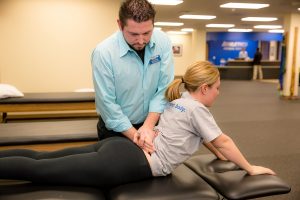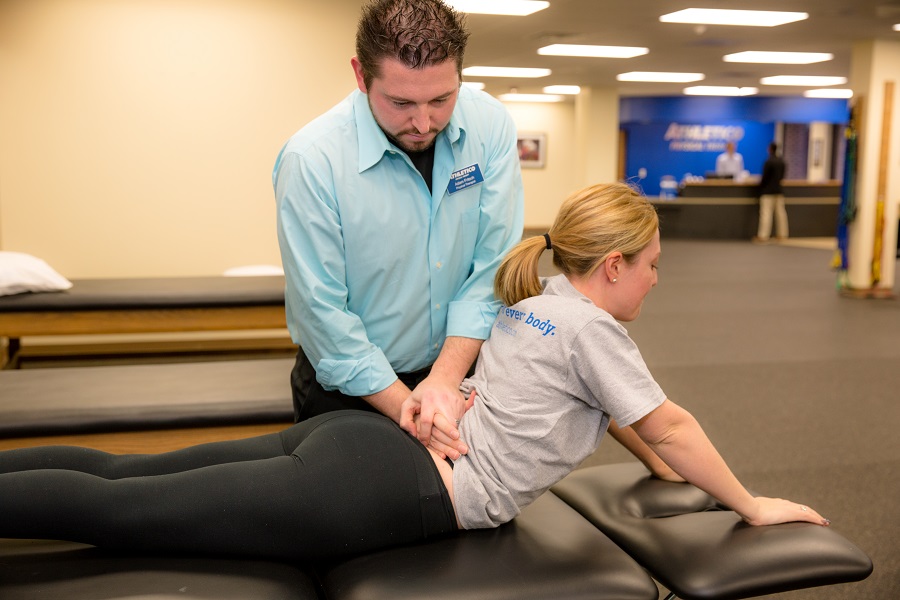 Why do I bring this up? Our healthcare system is currently at a crossroads. The landscape is changing, deductibles, premiums, and co-pays are on the rise, and reimbursement is declining. Although a portion of the aforementioned costs may be covered by a patient's insurance company after the patient pays for any deductible, co-pay, or co-insurance, healthcare providers are still tasked with finding cost effective treatment options that provide high value for patients. This most recent report shows that seeing a physical therapist first when treatment is required for low back pain is a much more cost effective option due to decreased utilization of advanced imaging, additional physician visits, surgery, injections and opioid use.5 What's more, studies show that PT for chronic low back pain is as effective or more effective when comparing the treatment option to a spinal fusion procedure or surgery for spinal stenosis.6,7,8
Athletico has prepared for this transition in healthcare by investing in our clinicians to pursue advanced certifications in the management of spinal conditions. In fact, nearly 20 percent of all Athletico clinicians have advanced training in the management of spine conditions either through residency, formal certification or fellowship training. If you are experiencing low back pain, schedule an appointment at your local Athletico to discuss treatment options with one of our certified therapists.
The Athletico blog is an educational resource written by Athletico employees. Athletico bloggers are licensed professionals who abide by the code of ethics outlined by their respective professional associations. The content published in blog posts represents the opinion of the individual author based on their expertise and experience. The content provided in this blog is for informational purposes only, does not constitute medical advice and should not be relied on for making personal health decisions.
Fritz, Julie M., et al. "Early physical therapy vs usual care in patients with recent-onset low back pain: a randomized clinical trial." Jama 314.14 (2015): 1459-1467.
Fritz, Julie M., Gerard P. Brennan, and Stephen J. Hunter. "Physical therapy or advanced imaging as first management strategy following a new consultation for low back pain in primary care: associations with future health care utilization and charges." Health services research 50.6 (2015): 1927-1940.
Childs, John D., et al. "Implications of early and guideline adherent physical therapy for low back pain on utilization and costs." BMC health services research 15.1 (2015): 150.
Initial Treatment Intervention and Average Total Medicare A/B Costs for FFS Beneficiaries with an Incident Low Back Pain (Lumbago) Diagnosis in CY 2014 (n.d.): n. pag. Web.
Fritz, Julie M., et al. "Primary care referral of patients with low back pain to physical therapy: impact on future health care utilization and costs." Spine 37.25 (2012): 2114-2121.
Hedlund, Rune, et al. "The long-term outcome of lumbar fusion in the Swedish lumbar spine study." The Spine Journal 16.5 (2016): 579-587.
Delitto, Anthony, et al. "Surgery Versus Nonsurgical Treatment of Lumbar Spinal StenosisA Randomized TrialSurgery Versus Nonsurgical Treatment of Lumbar Spinal Stenosis." Annals of internal medicine 162.7 (2015): 465-473.
Mannion, Anne F., Jens-Ivar Brox, and Jeremy C. Fairbank. "Consensus at last! Long-term results of all randomized controlled trials show that fusion is no better than non-operative care in improving pain and disability in chronic low back pain." The Spine Journal 16.5 (2016): 588-590.