Menu and Filters
Posted on by Tara Hackney, PT, DPT, OCS, KTTP
Winter is here! As the weather turns cold, snowy and icy, it makes outdoor workouts seem impossible. Cold weather does not mean all outdoor workouts must cease, but there are ways to keep up your routine or even try a new wintertime workout. Here are some tips for working out in the cold:
Read More
Posted on by allylofgren
Sigh… We knew it couldn't last forever. Although it's been pretty mild so far, we know what's next. Fall is here, and winter's coming.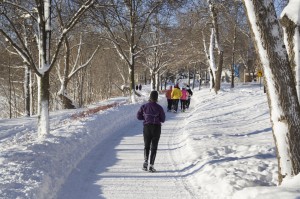 It's easy to think that the cold and the puffy clothes we wear are a good excuse to hit the buffet a little harder and to lower the fitness goals. However, there are a lot of great ways to stay fit and have fun during the winter months. Even if you don't join an organized activity, get outside for some fresh air and natural vitamin D.  This blog post is dedicated to tips on how to exercise safely and comfortably throughout the winter. Read More