Three Ways to Avoid Knee Pain at the Gym
11 Comments
Many patients come to physical therapy with knee pain as a result of gym workouts. Here are three ways to avoid knee pain while working out at the gym:
1.      Consider Avoiding This Machine in the Gym: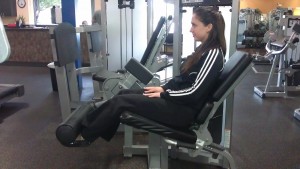 Although some people are able to use this machine without pain, others who are prone to having knee pain may increase their pain by using this machine. The combination of the knee motion during use of this machine, with lots of weight at the ankle, may increase the compression force at the knee. This pressure at the knee cap, when it comes in contact with your femur, can be painful and overtime land you in therapy.
2.      Watch Your Squatting Mechanics:
Squatting with improper technique places a lot of stress on the knees. Majority of patients who come to me with knee pain are not squatting correctly. Exercising with good technique can prevent knee pain.
Your squat should not look like this: This squat is too deep to perform over and over in the gym and places a lot of stress through the joints.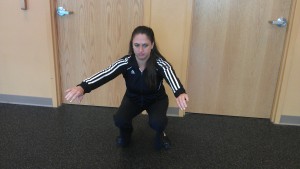 Your squat also should not look like this: This squat may look silly, but it is often the way people will squat when I ask them to perform a mini squat for the first time, especially if performing a squat on one foot or landing from a jump. If you notice you are squatting like this, first try to correct it. If correcting a squat that looks like this one is too difficult, you may need to strengthen your hips, quads, hamstrings, and/or stretch your calves.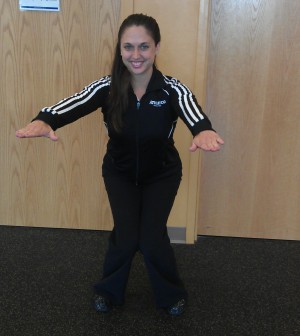 Your squat should look more like this one:  Feet flat and toes pointed forward, weight distributed evenly between legs, knee caps pointing forwards between 1st and 2nd toes, sit back so your knees do not bend past your toes.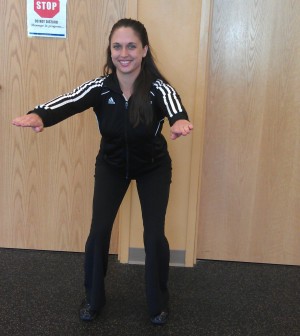 3.    Remember Your Hips!
Knee pain is not just a result of weak knee muscles. Knee pain is often a combination of hip, knee, and ankle involvement. If you have weak hips, the knee pain is likely to follow. Strengthening the hips is often a physical therapist's greatest tool in helping with knee pain. Here are some exercises to do in the gym to focus on your hip strength:
Lay on your side with your back against a wall and your legs stacked on top of each other. Keep your toes pointed forwards. Slide your top leg up the wall and then back down without losing contact with the wall. (Using the wall helps keep your body and legs in the right alignment to perform the exercise correctly.)
Place a theraband around your ankles. Bend your knees slightly and walk sideways for about 15 feet. Facing the same direction, go back the other way. If you do this for a good 2 minutes you should feel tired in the sides of your hips.
Remember to always check with your doctor or physical therapist to ensure these exercises are safe and appropriate for you.
If you are having knee pain, head to your closest Athletico for a complimentary injury screening.  The physical therapist or athletic trainer who sees you can help watch your squatting mechanics, test your flexibility and strength, and make recommendations to address your specific pain or discomfort.
Have a topic you would like me to write about?  Leave me a comment!  Thank you!