Schools are gearing back up for another school year! The school year starts with lots of energy and positivity, but can also contribute to pain. Teachers are moving rooms, lifting boxes and books, are stooped over the desks of the children, and will be sitting for hours grading papers. Students will be sitting for long periods of time, often in a slumped position and carrying backpacks that weigh as much as they do.  Athletes will return to sports, sometimes after a summer of inactivity, and injuries will start to present themselves. This time of year is busy and there is definitely no time for pain. So…what can you do if pain starts to creep into the back to school season? Utilize Athletico's complimentary injury screening!
Examples of Complimentary Injury Screening Success Stories: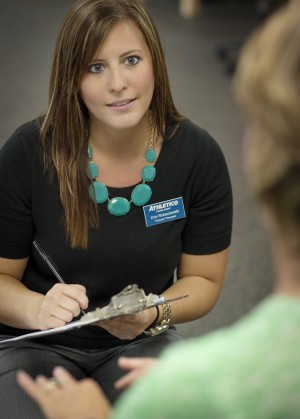 I Need to Be Better Fast Success Story:
An athlete starting the sporting season began to have knee pain to the point that this athlete would be in tears on the way home from practice. After a week of ice and no relief the athlete's parents brought the athlete in for a complimentary screening. I looked at the athlete's knees and noted that the pain was most likely coming from running and landing incorrectly, a result of tightness in the legs and weakness in the hips. These findings were putting unnecessary stress on the joints. In the state of Illinois we need a referral from a physician to begin physical therapy. Often, calling a doctor to make an appointment can take weeks to get in, and this athlete had to be competing in one week. I was able to call a physician who specializes in patients of this age range and specific sport. The physician did not have an available appointment for 2 weeks, but was willing to get the athlete in the next day. I met the athlete and parents at the physician's office to assist in communication about the pain, possible cause of pain, and plan of care. The physician agreed therapy was a great choice in treatment and we were able to start therapy the next day. The patient was seen in therapy twice a week for 4 weeks and was able to continue with practice and competition during this time. Upon completion of therapy, the athlete was pain free and the parents noted higher scores and height with vertical skills.
The Teacher with Neck and Arm Symptoms:
A teacher was experiencing neck pain, inability to turn her neck, and numbness and tingling into her arm. This started after a weekend of grading papers and then a bus ride where she was turned around watching the students. She came in for a screen wondering if there was a solution to her pain other than pain meds or surgery. After screening the patient, and finding that some specific strategies during the screening helped reduce her pain, we decided that a round of therapy was definitely worth trying to resolve the symptoms prior to seeing a physician for more involved treatments. We were able to get a referral for therapy from her primary care physician. She was happy to find that a round of therapy helped reduce her pain and taught her strategies to improve her posture and assist in prevention of pain for the rest of the school year.
Do I Really Need to Go to the ER Success Story:
Another athlete at the start of the school year twisted an ankle landing from a jump. The foot and ankle swelled to the point the athlete could not walk. The athlete came into the clinic on crutches wondering what to do. The athlete's parents were wondering if the athlete really needed to go to the ER. Since this was not a life threatening emergency, the answer was no. The ER would most likely take an X-ray, have a long wait time, and then refer to an orthopedic specialist. Getting into see the specialist may or may not take some time. I agreed the athlete did need to see an orthopedic physician, but could skip the ER trip. I called a physician who specialized in this particular athlete's age group and sport and was able to get the patient in to see the doctor that afternoon. The patient had the X-ray taken at the orthopedic physician's office, where a fracture was noted and the patient was casted. The patient later returned for therapy and successfully returned to the rest of the season once the fracture healed and strength and mobility returned.
The above examples demonstrate how utilizing the complimentary screening:
Can shorten the time it takes for effective treatment to begin
Can provide a direct referral to a physician that specializes in the care you need based on your specific pain/injury and age.
May save you money from an unnecessary trip to a line of care that will need further referral to what you actually need to resolve the problem.
Can enhance overall communication between the patient, physician, and therapist.
A few things to keep in mind:
Complimentary injury screenings are approximately 30 minutes long and one on one with a therapist or athletic trainer. You can call for an appointment and will be accommodated quickly.
Some injuries do not need further referral, and the therapist or trainer may be able to discuss an at home plan of care to meet your needs.
Your therapist/trainer has relationships with several physicians in the area and will be able to recommend the right physician for your specific pain, age, sport, hobby, or medical history.
Complimentary screens are offered to ANYONE! Whether you are an athlete, a weekend warrior, a hard laborer, a parent, retired….whoever you may be, and whatever you may do….the screens are for you!
IT'S FREE!
Don't carry your start of school pain into the second quarter!  Call your closest Athletico for a complimentary injury screening today!  Click here to find a location near you.