How Physical Therapy Can Help Back Pain
43 Comments
The back is designed to protect the spinal cord. However, it is also like a set of stackable blocks with bones that connect and run from the base of the head, to the bottom of our tailbone. Those stackable blocks keep us erect/upright, maintain posture, absorb shock and provide a stable base for our arms and legs to attach to for everyday movement.  There are three sections of the spine:
the neck or cervical region,
the mid-back or thoracic region, and
the low back or lumbar-sacral region.
Spinal control and good positioning are necessary for safe and efficient movement patterns so any musculoskeletal breakdown in the chain can lead to back pain.
It is estimated that 8 out of 10 people will experience back pain at some point in their life.  Americans spend at least 50 billion dollars on back pain each year. Back pain is the most common cause of job-related disability and it is a main contributor to missed days at work. Severity of back pain ranges from acute to chronic, sometimes lasting days, months and possibly years. Pain varies from person to person and can be as basic as a dull ache to sharp, shooting or even radiating complaints. In significant or long lasting cases it typically requires one or more trips to the doctor for further review, treatment and diagnosis. In addition to the doctor, physical therapists can play a big role in helping to alleviate or manage your back pain.
Physical therapists undergo extensive training in the musculoskeletal and neuromuscular systems equipping them to effectively evaluate, manage and treat a variety of different spinal issues from degeneration/arthritis, to such things as sprain/strain, spinal stenosis, sciatica, scoliosis, herniated disks and spondylolisthesis to name just a few.  When given an order for physical therapy a typical frequency and duration ranges from 1-3 times a week for 2-8 weeks or greater depending on the severity of your condition.
Your first visit to a physical therapist for back pain entails a thorough evaluation where the therapist gets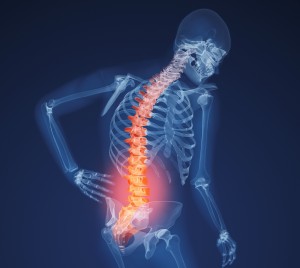 a sense of what makes you better or worse and learns your specific strengths or weaknesses. The therapist will create a problem list to generate an individualized plan to address your specific needs.  Because a physical therapist sees you on a regular basis for an extended period of time, they will be there for any ups and downs or negative responses to activity. Therapist can also aid in modifying, progressing or adjusting exercises and activities to meet your tolerance. A physical therapist plays a large role in communicating your progress to your physician. They will give the doctor information he or she needs to make informed decisions on any further medical needs you may have for your back issue.
From evaluation to discharge a physical therapy can help back pain in many ways and below are a few examples of how.
During the evaluation your past medical history will be reviewed so any prior injuries, surgeries or medical conditions that could affect your back are uncovered and can be addressed if appropriate or necessary throughout your ongoing treatment.
Posture will be assessed and reviewed with a progression of corrective strategies initiated throughout treatment if deficits exist.
Your therapist will want to know more about your occupation, daily household activities, hobbies and recreational sports so you can be educated in safe spine positioning, body mechanics and even ergonomics to help you decrease any possible repetitive stress that may exist for your spine
A strength assessment will be performed for your core, scapular stabilizers and hips/lower extremities as needed with a progression of exercises given throughout your course of treatment to improve strength, stability and motor control.
Joint range of motion and tissue flexibility will be evaluated with education and performance of stretching techniques as well as manual work per your therapists' discretion.
To help manage pain, your therapist may utilize a variety of different therapeutic techniques to ease your discomfort such as heat, ice, ultrasound, TENS or traction.
Pain can cause stress and uncertainty so many times a therapist helps most just by listening and encouraging through difficult times.
The best thing you can do is be proactive about your back health.  Rather than waiting for an injury to occur come on in and schedule a Functional Movement Assessment with one of our certified physical therapists, athletic trainers or fitness professionals to get a baseline of your current movement patterns. Learn how to maximize your movement potential but more importantly reduce your risk of possible injury in the future through appropriate corrective measures.  Let us help you head off your back pain before it has a chance to begin!  We look forward to seeing you.
The Athletico blog is an educational resource written by Athletico employees. Athletico bloggers are licensed professionals who abide by the code of ethics outlined by their respective professional associations. The content published in blog posts represents the opinion of the individual author based on their expertise and experience. The content provided in this blog is for informational purposes only, does not constitute medical advice and should not be relied on for making personal health decisions.