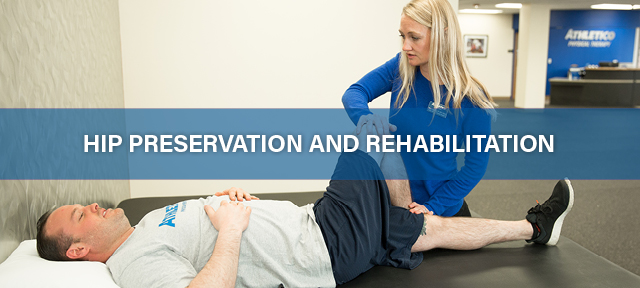 Physical Therapy for Your Hip
Your hip is one of the most flexible joints in the body; allowing you to run, jump, and walk. This ball and socket joint provides a smooth surface for bones to glide past one another, creating stability and broad range of motion.
From a hip replacement or hip arthroscopy, groin pain, limited motion and/or hip arthritis, physical therapy is a treatment option for hip rehabilitation.
Patient May Experience:
Hip replacement
Hip arthroscopy
Arthritis
Clicking or snapping sound from the hip
Hip flexor tightness or strain
Tight IT band
Hip pain when sitting or standing
Hernia
Pain in the groin or thigh
Recurrent hamstring or thigh strains
Decreased range of motion
Hip Pain
Physician May Diagnose
Hip impingement
Osteoarthritis
Rheumatoid arthritis
Avascular necrosis
Hip labral tear
Dislocated hip
Inguinal hernia or sports hernia
Herniated disk
Sacroiliac joint dysfunction
Hamstring strain
Quadriceps strain
Adductor strain
Athletico Physical Therapy Treatment Options
When working with an Athletico Physical Therapist, each patient is assessed to create an individualized treatment plan. Treatment for hip pain may include:
Manual therapy techniques including joint and soft tissue mobilization
Posture correction
Therapeutic exercises to strengthen and increase motion of the affected area
Modifications to physical activity and diet
Return to play: Patient must have appropriate range of motion, strength, endurance and flexibility as well as pass both a Functional Movement Screen test and Y-balance test.
Additional Care Options
Working with an Athletico Manual Therapy Specialist
Working with an Athletico Orthopedic Clinical Specialist
Working with an Athletico Sports Clinical Specialist
Click the button below to find an Athletico hip rehab specialist near you!
Find a Hip rehab specialist near you
Find an Athletico.