Athletico University
We are dedicated to advancing education for our therapists and healthcare professionals. We are accredited and approved continuing education provider for Physical Therapists, Occupational Therapists and Athletic Trainers. Since Athletico University's inception, it has offered thousands of hours of free continuing education to our staff by top experts in the medical community. This cutting-edge continuing education, in turn, has transferred into superior care for our patients and the communities we serve. Our mission is to continue striving for clinical excellence providing our therapists and healthcare professionals with the educational tools to become experts in our field.
Click here to view the Athletico University course schedule.
Mission Statement
Athletico University's sole purpose is to inspire the Athletico staff through our commitment to education, quality health care, and advancements within our field while integrating our unique services into our communities to better serve our patients.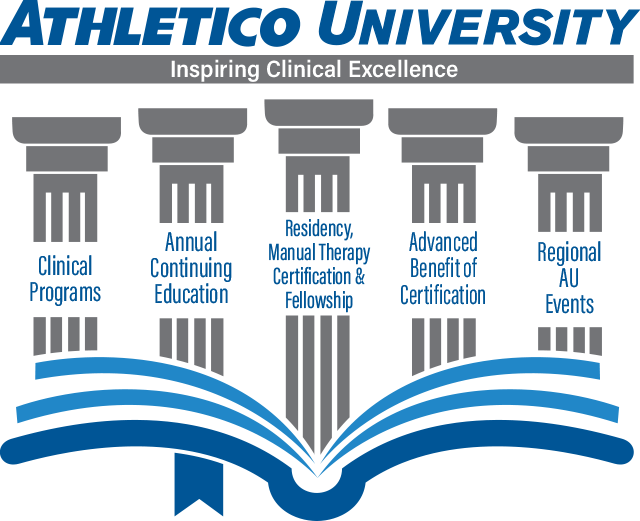 Benefits of Athletico University and In-House Education for our Therapists & Athletic Trainers
Advanced certification opportunities include but are not limited to Orthopaedic Residency, Sports Residency, Manual Therapy Certification and Fellowship training with Evidence in Motion (EIM).
Advanced certification opportunities include Certified Manual Physical Therapist, Certified Orthopaedic Manipulative Therapist and Fellowship training with the Institute of Manipulative Physiotherapy and Clinical Training (IMPACT).
Creates a culture of clinical excellence and staff ownership
Provides an opportunity for staff to be an integral part of the process through teaching appointments
Interactive setting with lecture and laboratory component
Ability to have open discussions and learning opportunities with the industry's leading professionals
Increased camaraderie between Athletico therapists and athletic trainers
Convenient location and state-of-the-art learning center
Athletico University provides more than 1,500CEU hours per year.
To view our current physical therapy career opportunities, click the button below.
Find an Athletico.