Women's Health Therapy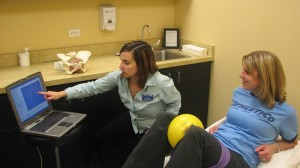 Our devotion to women's health therapy starts with a select group of Athletico physical therapists who have received specialized training in the treatment and education of women's health issues. Not only will patients undergoing women's health therapy receive one-on-one treatment with a female therapist in a private and comfortable setting, but they will also receive the latest research and treatment methods for the most advanced plan of care. Whether it is for preventive or restoration services, Athletico physical therapists are the experts women can trust. Watch our pelvic floor videos here. 
For more information contact a Women's Health Physical Therapy Clinician by emailing womenshealth@athletico.com.

View a list of locations offering Women's Health Therapy


Our Women's Health Therapy service specializes in the following conditions and treatment options:
Urinary Incontinence – Treatments include strengthening exercises for weakened pelvic floor muscles, education on fluid, diet, and lifestyle modifications, as well as biofeedback training. Learn more by watching the Bladder Quiz video or by taking Athletico's bladder quiz and talking to a Women's health specialist. 
Breast Cancer Care – Treatments include exercises for improving range of motion, muscle tightness, scar/implant mobility and shoulder strength along with decreasing swelling and increasing mobility.
Chronic Pelvic Pain – Treatments include muscle re-education/strengthening/relaxation exercises.  Functional

activity of daily living alternatives, postural educati

on, soft tissue massage, spinal/pelvic alignment corrections, and biofeedback training.

Prenatal and Postnatal Care – Treatments include instruction on proper body

mechanics to prevent back pain, exercises to strengthen pelvic floor muscles, an

d

pre/postnatal massages.

Sacral Dysfunction – Treatments include manual tech

niques/mobilizations/muscle

energy techniques, flexibility for the lower back/lower extremity muscles, strengthening of core/hip stabilizers and pelvic floor, and patient education.

Lymphedema – Treatments include exercise, manual lymphatic drainage, compression bandaging, proper wound care, scar massage, and an individualized home exercise program. 
Osteoporosis

– Treatments include education on ways to reduce the risk of falling, education on safe techniques to move, lift, and perform daily tasks, and instruction on proper weight-bearing exercises.

Diastasis Recti – Treatments include exercises that strengthen your abdominal, and splinting to assist with the approximation of the two head of the muscle.  Surgical correction is also an option for large separations that do not respond to conservative treatment.
Athletico's Kelly Todd, PT, Women's Health Therapy Program Manager, provides prenatal strengthening tips to BabbaCo founder Jessica Kim.  For more information about Babbaco, visit http://www.babbaco.com/.
---
Locations
Illinois
---
Indiana
---
Iowa
---
Michigan
---
Missouri
---
Ohio
---
Wisconsin
---