Video Gait Analysis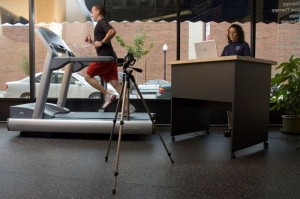 Whether you are looking to set a new personal record or simply get started, Athletico has Video Gait Analysis professionals to assist you in optimizing your running form and preparing your body for the thrill of running, bringing you one step closer to making your goals a reality.
Click here for a list of locations offering this service.
Why Video Gait Analysis Works
In addition to the expertise of a highly trained Athletico staff member, Athletico also uses software developed by industry leader, Dartfish, to make assessments of your running style.  Dartfish software highlights biomechanical patterns with angles, measurements, and drawing shapes for precise feedback.  This allows our staff to make a powerful and objective gait and biomechanical analysis, which is easily communicated through high quality video footage copied to a customized CD.
Dartfish software will provide the following for optimal running efficiency:

Slow-Motion Video Analysis
Frame-By-Frame Video Analysis
Joint Angle Analysis
Multi-Angle Video Gait Analysis
At the end of your Video Gait Analysis session, you will receive your own personalized assessment of your performance on a CD-ROM with helpful tips, exercises, and critiques to help maximize your running performance.
In addition to Video Gait Analysis, Athletico also offers the following services that can benefit endurance athletes:
Fitness Center Memberships
Bike Fit
---
Locations
Chicago
---
Northern Suburbs
---
Northwest Suburbs
---
South Suburbs
---
Western Suburbs
---
Indiana
---