Demetrius Baker
May 2016: Patient of the Month
Demetrius Baker
Knee Replacement & ACL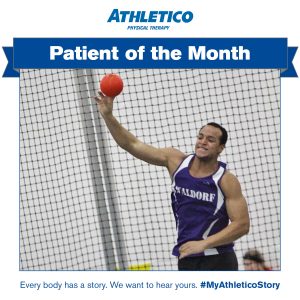 Athletico along with the trainers and my coaches helped me get where I am at today. Coming back from an ACL, MCL, and meniscus tear was an incredibly challenging experience. It all started junior year of high school during football, I made one wrong cut and my knee popped.  My high school athletic trainer told me it would be fine, and to continue to ice it.
I continued to compete in track at the collegiate level. One day, I made a wrong move again and popped my knee. The pain wasn't too bad but walking was a challenge the next few days. Even though it was bothering me I continued to practice, lift and take on additional training from September until January. Coach continued to watch and noticed I was limping during drills.  He told me to get evaluated by Heidi and Dan, the Athletico Athletic Trainers at Waldorf University. The looks on their faces told it all. I scheduled a MRI, and my doctor informed me that I would need a full knee replacement surgery. After surgery, I was discouraged as I had to sit while my teammates continued to do what we all love;  run, jump, throw, and compete.
After two months I started work outs again. Coach had me doing stairs with a weighted vest and balance drills.  I had so much motivation and support, as coach had already went through a surgery similar to mine. Even with an ACL repair, she became a Division 1 Champion. I kept telling myself if coach did it, so can I.
All of Athletic Trainers at Waldorf University played a part, but Heidi and Dan stayed on me about rehabilitation and the little things such as proper posture and walking. Along with the Waldorf athletic trainers my rehabilitation team at Athletico Physical Therapy did a great job, getting me back to my competitive level. Doubling up my rehab helped a lot! They pushed me in the clinic at Athletico Physical Therapy and they pushed me in the treatment room and throughout training at Waldorf. Their words still stick with me to this day, "it is fixed don't be scared, trust me you can do it". In the beginning I didn't want to do rehab but I am glad I did. I jump higher, run faster, and lift more than ever before.
To my coaches, athletic trainers at Waldorf University and the staff at Athletico Physical Therapy, thank you!  I wouldn't be where I am today without all of you.
To read more of our patient success stories, and see our latest Patient of the Month, click here.
Find an Athletico.