Jan Sinclair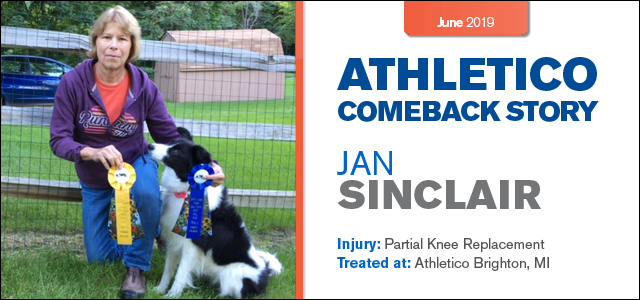 The two hobbies that I love more than anything is hiking in the UK, and competing with my dogs in agility. I have done both for over twenty years, but as I have gotten older it has taken more and more commitment to be physically able to do these hobbies. Several times over the years I had injuries from running and went to Athletico Brighton for PT. I loved their staffs' attitude and professionalism, and their determination to help me return to doing the things I love.
Most recently, I could no longer compete in agility or do any hiking due to advanced arthritis in left knee and finally decided to have a partial knee replacement. With the help of a great surgeon and the dedicated Athletico staff, I returned to competitive agility in February of this year. My current agility dog, Pippin, and I did not just return, but won several of the classes in the two February trials in NC! Pippin runs a course in times from 6 to 7 yards per second, and I was able to keep up with her and handle her through the courses! Haven't done the hiking yet, but hope to before long.
I found that the road back from a replacement is a slow and winding one, with setbacks along the way. "It takes a village" is how I can describe what it took to come back to competing in agility with an intensely fast Border Collie. My village included my doctor and his staff, and the staff at Athletico. They all believed in the possibility and did everything they could to make it happen. My PT even attended several doctor appointments with me to coordinate care with the surgeon. It actually brought me to tears to receive that level of commitment. I have so much gratitude!
Click here to read other patient stories.
Find an Athletico.