Mekenzie and Karrington Vandermolen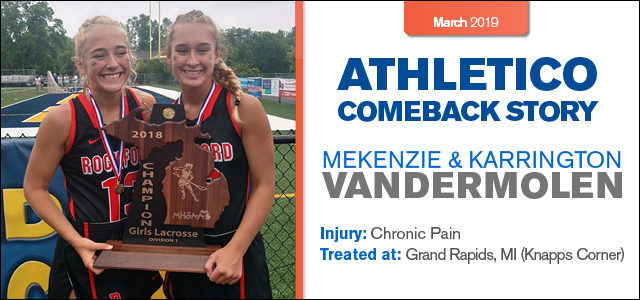 Mekenzie (Left) and Karrington (Right) Vandermolen are sisters who both experienced adversity and success this past year. When beginning spring training for lacrosse in 2017, sixteen year-old Karrington started to feel pain in both feet. She was referred to Athletico Physical Therapy – Knapp's Corner by a non-operative sports medicine physician and trialed several months of conservative treatment while undergoing various imaging studies in attempt to determine a definitive diagnosis. While her flexibility and strength improved, Karrington was still unable to progress back to running or plyometrics without pain, therefore in December, she had compartment pressure testing which identified bilateral compartment syndrome of the abductor hallucis.
Karrington underwent fascial release on both feet in February 2018 and started rehab in March. She was progressed through therapy to running and cutting and was able to return to lacrosse for the 2018 high school season.
Karrington's sister, Mekenzie also began PT at Athletico – Knapp's Corner during that time to address chronic pain in both shoulders that she had experienced for years while throwing/catching during lacrosse. Through rotator cuff and scapular strengthening, she was able to improve her dynamic shoulder control to help compensate for multidirectional shoulder instability and allow her to participate in her senior year lacrosse season.
Mekenzie and Karrington both achieved their goals of playing lacrosse for the 2018 high school season. In June, the sisters helped the Rockford Women's Lacrosse team win the Division I state championship, Mekenzie scored 7 goals and Karrington scored 4 goals in the championship game. Both sisters were named All-American for the 2018 season.
Find an Athletico.