Bob Marino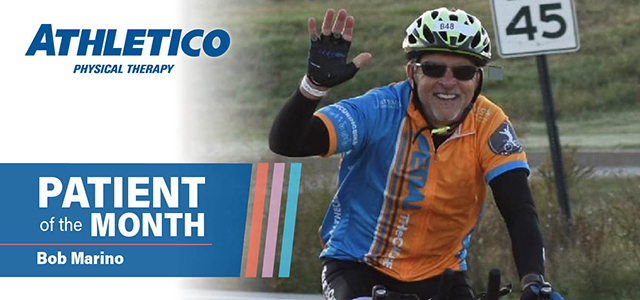 I don't know how to express how appreciative I am of Bryan Lind and the team at Athletico – Fenton, MO, for bringing me back from total knee replacement surgery. My Athletico journey began in May '21 when I was three months post-op. As an avid road cyclist, my mission was to get back on the bike and in shape for a 60+ mile fund raising ride scheduled for late September. Starting with limited flexibility and about 40% of the strength of the good leg, I could barely crank the pedals on the stationary bike without pain.
Fast forward to Sep 26 at the starting line for the ride, and while anxious and excited about the challenge I faced, I knew I was physically and mentally prepared! Though physically exhausted, I crossed the finish line five hours later, clocking 68.4 miles pain-free and exhilarated at the accomplishment. One of my riding buddies said it all when he commented along the ride "…it's great to have you back!" And my reply – "…it's great to be back!".
I know for sure that I would have never gotten there without Bryan's expertise, skill, dedication, perseverance, and commitment to my rehab. He worked diligently for months pushing me to work harder and keep going despite the pain, soreness and setbacks. I learned a ton from Bryan about physically and mentally training and rebuilding muscle. Now life skills, I will continue to use these as my personal training and cycling continue.
I walk away from this PT with something that I've not had for over 25 years (dating back to my first knee surgery): equilibrium in size and strength of both my legs. And amongst all the sweat and tears over the past nine months, a huge bonus is that I gained a friend and someone that I trust, which is just as important as my recovery.
Bryan has a poster above one of his tables that states, "Don't quit when you're tired, quit when you're done!". As a central theme of my rehab, I take this forward in all future rides and fitness activities. In pedaling up those big inclines or pushing the flats with the wicked headwinds, keep going despite the pain and fatigue until you cross the finish line.
I extend my sincere "Thank you" to Bryan and the team at Athletico for everything you did to bring me back. I will miss our visits, our conversations, and our joking around, but know that you have a client and friend for life.
Click here to read other patient stories.
Find an Athletico.