Greg Metzler
December 2016 – Patient of the Month
Bicycle Accident
North Loop, Illinois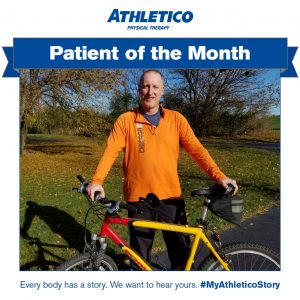 Written by Greg's wife, Maria Metzler
Greg and I were 21 hours from departure on our prepaid, no refunds vacation when our planned path came to a screeching halt. It took us off-guard, was totally surprising, intense and joyful nonetheless. Michelle Merget is part of this joy and someone you would be fortunate to know.

Two and a half weeks prior to our vacation, Greg sustained multiple injuries from a bicycle accident that occurred when he flew over the handlebars after stopping suddenly from a speed of approximately 18 mph on a paved path – a mild concussion (it probably would have been worse had it not been for his helmet), three facial fractures, a left-arm radial head fracture (later to be told it was two fractures), soft tissue injury resulting from whiplash to the neck, abrasions everywhere and a trip to the ER via ambulance to boot. Greg also had a severe contusion throughout his right-arm. The ER doctor immobilized the left-arm and Greg couldn't move his right-arm at all. All therapists know what that means…impaired ADL's (activities of daily living)!

The days following Greg's accident were filled with medical visits to many different professionals. Once Greg was cleared for OT services by his first orthopedic specialist, who believed the original x-rays to accurately tell the whole story, Greg started to work with Athletico Hand Therapist Michelle Merget, OTD, OTR/L, CHT, CLT. Michelle trusted her training and experience as she evaluated and began to treat Greg. Within two visits, Michelle recognized a lack of anticipated progress in the right arm and phoned Greg's orthopedic specialist who scheduled a visit with him immediately. When the doctor's recommendations for continuing therapy as planned didn't sit right with Greg, we reached out to a second specialist at the recommendation of a family member. Michelle accompanied Greg to the appointment to dialogue with the specialist and to provide support.

The second-opinion appointment occurred when our vacation countdown clock had already started: 21 hours until boarding. The new x-rays/CT scans told the story – approximately 1/4 to 1/3 of Greg's radial head of his right-radius bone was completely broken off and floating around in the elbow area. Surgery was necessary. If Greg waited, the risk increased exponentially, the loss of the bone in favor of a radial head replacement and various other unfavorable outcomes were presented if surgery was postponed. Michelle was with Greg through it all. In addition, she directly requested permission from the specialist (who typically doesn't allow it) to attend the surgery in order to increase her knowledge and experience as well as to support us. Then, she contacted us following the surgery to check in and answer questions about upcoming therapy. She made herself available beyond the expectations of the job and became part of the joy in our experiences.

Thank you Michelle for making relationship within your role as an OT a key component in your work. It is through this relationship that you bring joy and are joy for us.

Our joy expanded exponentially when our hotel graciously postponed our vacation instead of cancelling it. The planned dates were discussed with our OT, to be sure enough time was set aside for occupational therapy. Greg's goal is to return to ideal functioning and our work with Michelle Merget, OTD OTR/L CHT, CLT Hand Therapist at Athletico, supports this goal.

Find an Athletico.