Alina Barnett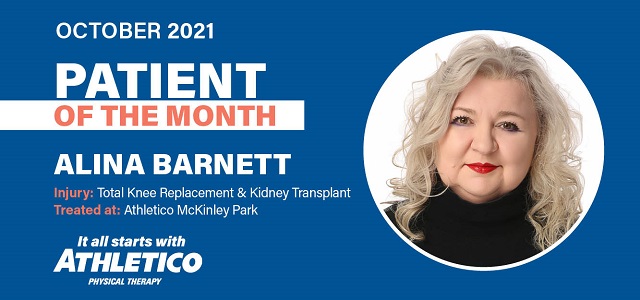 I recently had a total knee replacement due to an injury at a step class five years ago. At first the pain was tolerable, however through the years it progressively got worse. At the time I had a chronic kidney disease and needed a kidney transplant. I actually did receive a kidney prior to my surgery!
I decided to go to Athletico in McKinley Park for my therapy. I liked it because it was close to my home but did not realize that was the best decision I had made. I had three different therapists, which all had a little different techniques. I liked that because I felt my knee was getting a variety of exercises. The assistant for the therapists was like a therapist herself. She handled several clients at one time, however when I completed an exercise she was right there as if I was her only client. Everyone was always in good spirits as soon as you walked in the front door. I thank all of you at Athletico in McKinley Park to be there through my journey!
Click here to read other patient stories.
Find an Athletico.