Jennifer Dawson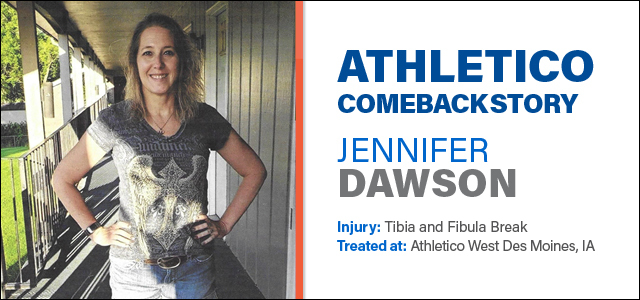 Athletico in West Des Moines is a great place to go for therapy and rehabilitation. When I started going at the beginning of August, I was just released to go back to work after I was off work for 2 1/2 months from breaking my leg (a Tib/Fib break) in a sporting accident. I was taught how to walk normally again, and do exercises to help gain muscle strength back that I lost while I was recovering. I looked forward to my physical therapy appointments 2-3 times a week. I mainly worked with Tim and Sarandyn and they are so awesome and very personable. They take interest in you as a person and listen to help you succeed in your recovery and to ensure you are doing the exercises correctly. I hope I don't have to go through physical therapy again, but if ever I do, I will seek them out again. I give them 10 out of 5 stars.
The West Des Moines team helped me gain mobility back in my ankle and to gain strength back to the muscles I lost while I was down in recovery. They helped me test my own abilities and let me go at my own pace, allowing me to try other things that I wanted to try when I was ready. I obtained about 99% mobility and flexibility back with the different stretches and exercises I did, and continue to do!
Click here to read other patient stories.
Find an Athletico.