Tiffany Timmermann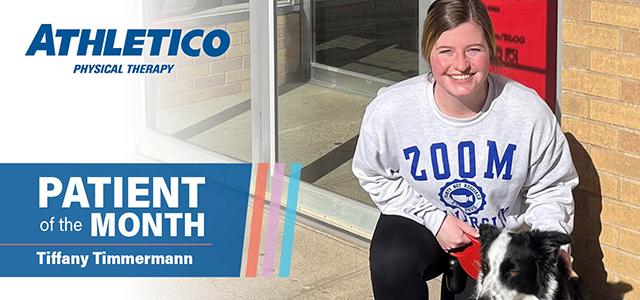 I truly cannot thank Athletico enough for helping me recover and meet my goals after my second ACL repair. I first tore my ACL in high school playing basketball. I rushed my recovery so I could compete in sports my senior year. I continued to have knee issues but was able to work through them for the most part. Fast forward 6 years and I feel and hear a pop while running with my dog Gus and instantly knew I injured my knee again. I hesitated to go in and get it looked at for a while because I was in my last year of nursing school and didn't think I had the time to go through surgery and PT again. I ended up getting it looked at and doing an MRI to find out I did in fact tear my ACL again. After going over my options I set my surgery date for mid-October and started looking for physical therapy places in Vermillion. My surgeon highly recommended Athletico and said that they would work with my class schedule, so that is where I started my PT journey.
The first person I met at Athletico was Carol, she is the receptionist at the Athletico Vermillion location. She was very welcoming and willing to work around my school schedule. When I started PT, Emma (the main physical therapist) was on maternity leave, so my first PT appointment was with Isaac (who normally works at the Dakota Dunes location). Isaac was great to work with and his past experience playing sports really helped us connect and made PT a fun environment. It was nice to be able to joke around and have things in common to talk about. Talking was a great distraction while doing the exercises for my knee. I also worked with Chris from the Sioux Falls location, it was a nice change to have a different person to switch up the normal routine. After a couple of months, Emma came back towards the end of my PT journey. I personally like the differences in having different physical therapists to work with. I liked the variety of stretches and exercises they all had to offer. Emma was really great at figuring out what my goals were and helping me achieve them. My main goal was to get back to running with Gus. We started doing more muscle-building exercises in order for me to reach that goal. Emma even ran and did some of the exercises with me during our PT sessions which I enjoyed a lot. There were also students shadowing Emma that were great to have during my sessions, it made the time go by fast with more people to talk and joke around with. Now I am 4 months postop, and I am starting to run more and more each week. I am very thankful to everyone at Athletico for helping me recover from my ACL injury.
Click here to read other patient stories.
Find an Athletico.