Donald Chalmers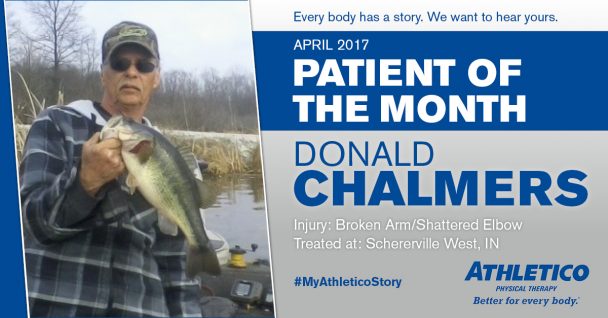 I had fallen from the second story of a building at work and had severe damage to my right arm, including broken bones (two that came out the arm) and an elbow that was completely shattered into hundreds of pieces. When I first reached the emergency room I was told that the arm may have to be amputated due to the damage. I was immediately taken to Christ Hospital in hopes my arm could be saved. The attending trauma team, doctors and nurses were able to save my arm. I had two plates, two wires and a titanium elbow installed into my arm that was held together by 32 screws. My doctor told me I was a very lucky man to still have my arm and I was truly grateful. He told me I would never work again. I asked for the best therapist close to my home in Dyer, Indiana so I could begin my rehabilitation. Gloria at Athletico Schererville West came highly recommended.

I was determined to get as much use as possible back to my arm by doing therapy three times a week. I had been in so much pain that no one (not even the doctors) noticed I also had a problem with my left thumb. I mentioned it to Gloria one day and she immediately told me I had broken a tendon in it. I then notified my doctor and found out that she was correct. I also had damage to my knee that had gone unnoticed. In one year I had three surgeries to repair all the damage done from the fall.

After a year of therapy on my right arm, left hand and knee, I was back to normal as much as one could be with the damage I sustained. I was able to return to work despite what the doctors had said about not being able to work again. This spring I will also be able to do what I love to do again, which is fish. I will be able to once again cast using my right arm. The staff at Athletico didn't just treat me as a patient but as a friend. They made me feel like I was part of their family. They were sympathetic, concerned and passionate in their quest to get me better. This includes everyone – from scheduling to all the therapists that worked on me one way or another. I am truly grateful to each and every one of them. I watched others come and go with different injuries in the time I was there and they did amazing work on everyone. I highly recommend this place for anyone in need of any physical therapy. You won't be disappointed in them.
Click here to read other patient stories.
Find an Athletico.