Bob Samonski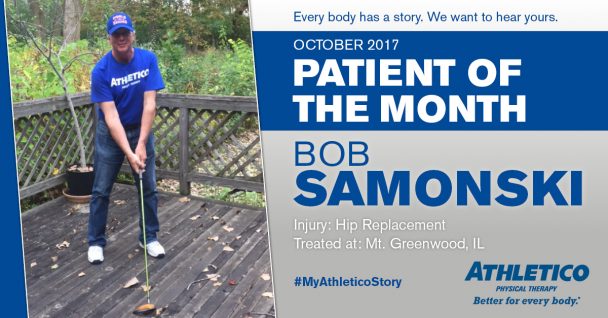 I wanted to let you know about one of your Physical Therapists – Michael Walker, Facility Manager at Athletico Mt. Greenwood. Michael has been working with me since May 20th, 42 hours after my hip replacement surgery. I was very weak, not sure what I was able to do. I knew three things that I shouldn't do:
Don't bend past 90 degrees
Don't cross the center line
Don't turn my foot inward or outward
When I arrived on Saturday at 9:00 am, he evaluated me and started me on a work out procedure. I am not sure how he did it. I feel stronger than I have ever felt in a long, long time.
At no time did I ever take a step backwards. I have always felt great leaving the facility. I want to mention Michael's co-workers, from what I have seen they all work very well with each other. I have had the opportunity to work with many of them.
With one week remaining to finish my physical therapy (two days), I can't tell you how grateful I am to Michael and his staff for what they have done for me. I have already told my doctor's office about Michael Walker and the Mt. Greenwood location of Athletico, as my doctor was very happy with my progress. I will highly recommend Athletico, the Mt. Greenwood clinic and especially Michael for his efforts. Thank You!
Click here to read other patient stories.
Find an Athletico.