Gregory Weinstein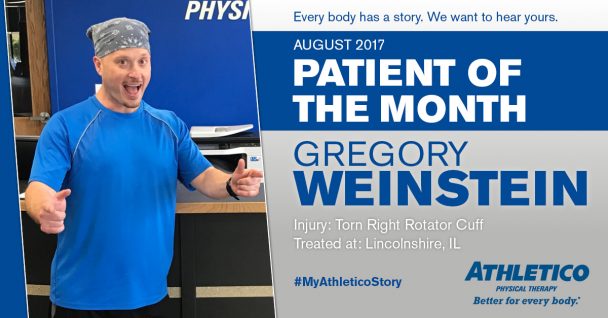 The Greatest Story Never Told
Michael Jordan (the G.O.A.T) and I have one thing in common: We were both cut by our freshman year high school basketball coach (I got called back…Michael didn't…wait, did I just dis Michael?)
My name is Gregory Weinstein and I am lucky in love and life…health (not so much).
I am a person who was never given AMAZING physical attributes (Thanks, mom and dad; you guys are still the best), but they instilled in me a spirit to never give up. I've ALWAYS strived to outwork the next person. I LOVE SPORTS- Growing up in Chicago how could you not be the biggest fan of Chicago Sports? For me, the Bulls, Cubs, Sox and Hawks are MY teams! Sports fans are interesting because our passion is unmatched. It's because of this very passion that I've torn a left knee and right hip (both of which required surgery), but I have always kept going! How could I not when my heroes growing up were such incredible inspirations?
The issue that brought me to Athletico was a torn right rotator cuff. I wavered back and forth about whether or not to even come to physical therapy because with a family (wife Iris, and two beautiful girls my Jasmine and Hazel Violet), job, and my garden, my plate is pretty full. Who has time to think about themselves when they need to put food on the table and a house over their family's head? I guess this all started when I was trying to earn the gratitude of my very determined boss. I didn't think I was supposed to ask for help when I was stacking 317 out of 320 garbage cans over my head. At that moment, my shoulder popped in and out. Nevertheless, I refused to quit. I still had strength so I just kept working! 
For three months, I worked with my right arm at 75 percent. Then, while helping a friend move, my right shoulder popped again, but this time I couldn't lift my arm afterward. I didn't want to tell my boss that I was injured, so I continued working another three months with my left arm. I actually wanted surgery because I thought that would be the quick fix! You see my youngest daughter is 4 and I wanted to be the best daddy ever and be able to lift her over my head (she's not going to be 4 forever). Well, Dr. Bradley Dunlap recommended physical therapy before considering surgery I took on a defeated attitude and walked into Athletico in Lincolnshire. 
From the beginning, Leython and I bonded over the love of sports (he was an athlete, I wasn't), enthusiasm for people with passion and a winning spirit! I'm certain that Leython truly enjoys what he does because it is clear in his treatment style. He challenges his patients while developing a treatment plan that is specific to each of their needs. Leython's mind is always working and his smile is infectious especially when he REALLY laughs! He even went with me to my doctor just to reassure me that our treatment plan and the Doctor's orders were in unison; he's been great in making sure that my treatment goals were realistic and measurable. I am always teaching others about being your own advocate; it felt good to have a therapist that was there as an advocate on my behalf. I am sure that I am an incredibly, challenging patient, but Leython has been there to help guide me in the right way. We don't always agree (my fault), but the reassurance and the encouragement at Athletico Lincolnshire (Leython, Gemmy, Ish, Brittany, Kevin) makes me look forward to coming in for therapy. For those of you who read the article, I can now lift my youngest over my head again! If you are considering physical therapy, I highly recommend that you go see Leython, he's been a hero in the lives of many!
Click here to read other patient stories.
Find an Athletico.