Steven Huber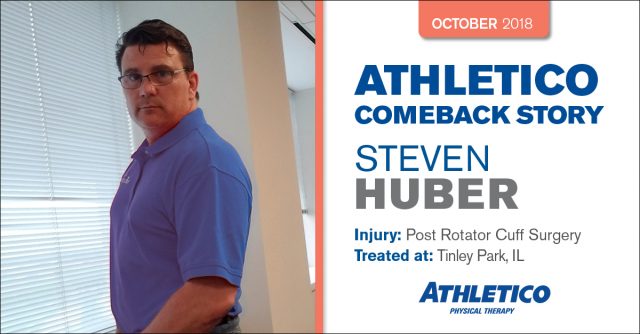 My journey started with Justin about 8 years ago when I had my first rotator cuff surgery. Then and now, my surgeon Dr. Ho with University of Chicago, knew and referred me to Athletico. Justin has been my primary physical therapist for both surgeries. My most recent surgery was January 2018.
Justin's knowledge, patience, understanding, compassion, experience and friendliness has made my recovery a success. Prior to both my surgeries, I had been very active. This last surgery caused me a few setbacks. Each time I had a setback, Justin was able to determine the cause of the setback and set a course of correction. If I followed his directive, the setback was corrected. He provided me with guidance and expectations of my recovery progress.
Justin's flexibility of hours, training and teaching worked great for me. He managed to ensure he trained me correctly when I performed my exercises. He knew I like to push my physical therapy and provided me with in-home exercises as well. Justin knew how to balance my recovery with my desire to obtain final results as soon as possible.
Even though I have reduced my visits from three times per week, while performing in home physical therapy three times per week, Justin's training has enabled me to do what I haven't done in 10 years. I am once again back in the gym. I am exercising, losing weight, and feeling overall much better about my self physically and mentally.
Justin is a superb physical therapist. He runs the Tinley Park location like a big family. The atmosphere is fun yet productive. The atmosphere, including the aides and other therapists, is one of openness, friendliness, compassion and excitement. Patients converse with each other while being productive and goal oriented.
Justin is not only my physical therapist but has become a friend. His knowledge and ability as a superior physical therapist is unquestionable. He takes his healing one step further. He incorporates wellness by providing a fun and energetic atmosphere within his clinic. He has created an environment within his clinic that incorporates all physical therapists and patients with a comfortable atmosphere that makes you feel welcome and at home.
– Steven Huber
Click here to read other patient stories.
Find an Athletico.