Hailey Newill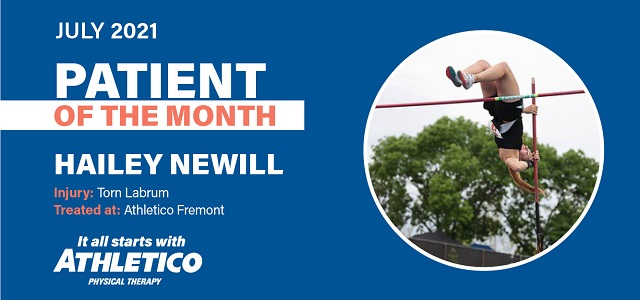 My injury started in August of 2020 during the school softball season. I was only but 2-3 weeks into the season when my shoulder started hurting a lot when I threw. After many different appointments, second opinions, at-home physical therapy nothing first came from it and I finished my school softball season the best I could with my injury. Eventually an MRI was taken and it was concluded I tore my labrum in my shoulder. Being told I would have to get surgery done was frustrating to me. I was willing to put off the surgery until after the 2021 track season if it was going to keep me from competing in my junior year. They told me that if the surgery is done soon I should be able to be back in time. This turned out to be quite stressful and scary to put it to chance because I love track so much and, missing my sophomore season, I really wanted to compete. The road to recovery was difficult and often frustrating to me. But every small bit of progress I made was another step to being ready for track.
Eventually, the therapy began (at Athletico Fremont), the sling came off, and I was on my way to my goal. Starting the track season off I was very cautious with my drills and my coach even more so as I was only 4 months out of surgery. I started nearly from the very beginning of pole vault drills not doing much more than what we call a run-through. Getting back into pole vault was scary. Especially when the pole felt like it stretched my shoulder because I wasn't used to it. With the combination of slow progression into more intense drills I was able to compete well at the first meet and made so much progress moving forward. I always improved during the season with my heights I vaulted for each meat. I gained more strength and confidence that my shoulder could support me and do what was needed. My goal for the 2021 track season was to tie the school record for girl's pole vault at 11 feet and about halfway through the season jumping 10 feet for a while, I didn't know whether I would make that goal. I kept working harder bringing more strength to my shoulder and at the district track meet I vaulted 10 feet 6 inches, my first time doing so. There was only one more meet to achieve my goal of 11 feet and it was the state meet. I was super nervous and hoped that everything I did since my surgery for this moment would pay off. And it did. I vaulted 11 feet, tying the girl's school record and tying for second place in girl's pole vault at state. I was so proud of how far I had come and proud of all the work I put in to get here.
Click here to read other patient stories.
Find an Athletico.