Julie Nelson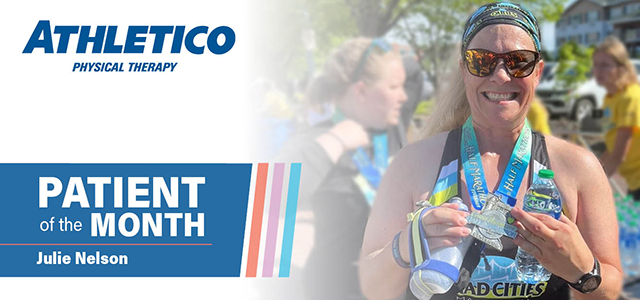 Let me start this by saying how grateful I am to Athletico Physical Therapy and my therapist, Shauna at their Bettendorf location. On June 18, 2021 I was running a cool down lap at the gym. I turned the corner and heard 3 pops in my knee and I collapsed. I was 3 days away from beginning a training program for my first marathon and I had just completed a half marathon a couple weeks prior. The next week I had an MRI and found out that I had torn my ACL, LCL, IT band, meniscus, and biceps femoris hamstring. I had surgery on July 21, 2021 and a couple days later I began a long and painful rehab journey.
Shauna, Zack, and Peg all helped me more than they'll ever know. Nine months of grueling rehab both physically and mentally, but so much support came from this team! Shauna was the absolute best PT. She talked me through all of my rehab and reassured me through a lot of tears when I was scared. As runners, we don't do well with injuries. I've been to rehab with Shauna for other injuries, but this was the one that changed my life. I was faced with the fear of never running again. I would show up to Athletico several times a week on my crutches and I was always met with encouraging smiles. Four months on crutches and then I was able to start putting some weight on that leg. Not going to lie, I was terrified! Shauna talked me through it and helped me take those first steps without crutches.
The day that I was able to "run" across the clinic was epic! So many smiles! Everyone in the clinic was cheering me on. Nine months of rehab with Shauna and her team. On May 30, 2022, 10 months post-surgery, I ran a 7-mile race in the Quad Cities Running Festival. The 2021 half marathon in this race was the last run I had before I was injured. It was perfect that it was the first race back. The special part of this is that Shauna agreed to run it with me! She was the reason I was running again. She helped me through that rehab and with my fear and confidence. Such a wonderful race to have her by my side. Then on June 18th, 2022, one year to the day from injury, I ran a half marathon in Duluth, MN with some amazing friends. I am continuing to strengthen my knee and I am slowly working towards that marathon goal! A huge thank you to Athletico Physical Therapy and to Shauna and her team.
Click here to read other patient stories.
Find an Athletico.