Timothy Voss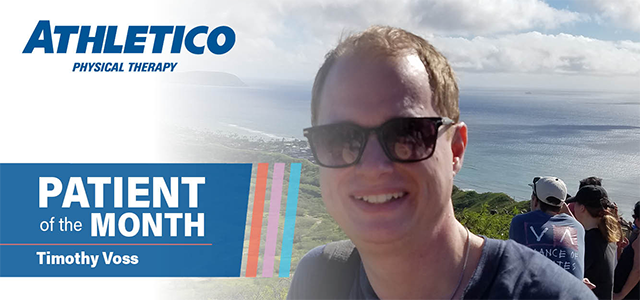 After having cancer removed, my body was weak from immobility. I ended up hurting my shoulder playing with my nephews, or at least, I thought it was my shoulder. The Athletico Des Plaines team pinpointed it as a neck problem and a pinched nerve. They put a good plan together that would move at the speed of my progress. I feel confident I can continue to do the exercises the correct way and went from not being able to use my arm due to weakness and numbness to now being able to complete more tasks while treating some other conditions that came up as a result of my increased activity.
I am now more active than I have been in a while and confident once I continue to improve my neck that I can start a full exercise program or even start running again. The staff at the Des Plaines Athletico are kind, patient, knowledgeable, empathetic, and hard working. What else could you ask for? They also offer Free Assessments, so I didn't need a doctor to address my secondary issue that came up. I moved about forty-five minutes away during my time in PT and still traveled to finish out my plan of care because I was more than satisfied with Melissa's diagnosis, observation, and instruction; Lauren's innovative and motivational methods; Mariola's empathetic, caretaking and observant spirit. All these PTs really care about their job and patients, which is rare these days. Thank you!
Click here to read other patient stories.
Find an Athletico.