Nicole Harris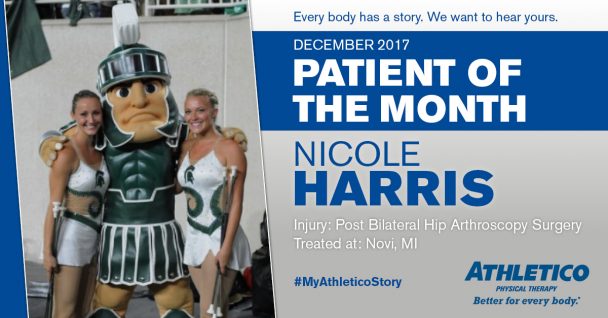 I have been a competitive baton twirler for 15 years now and it is no surprise that throughout these 15 years I have had my share of injuries. They have ranged from minor pulled muscles all the way to knee injuries that took me out of the sport for a few months. I have always been able to handle these injuries in stride, but nothing could have prepared me for the news I received a year ago. I was experiencing excruciating hip pain and decided it was time to see an orthopedic surgeon. This is when I found out that I had labral tears, FAI, and joint laxity in both hips and needed bilateral hip arthroscopy.
This was the most devastating news because I am on an athletic scholarship at Michigan State University for baton twirling. At the end of my athletic season I had both hip surgeries six weeks apart and went to physical therapy at two different locations near MSU. Four months had passed since these surgeries and I wasn't seeing the results I needed to get back to my sport. My surgeon recommended me to Athletico in Novi and it was there that I began to be hopeful about returning to baton twirling.
For those who don't know, baton twirling is a combination of gymnastics, dance, and figure skating moves all while tossing a metal baton into the air and having to catch it again. This sport requires a great deal of balance, strength, and flexibility. All of which I lost after my surgeries. The physical therapy I received at Athletico was extremely specific to my sport and included moves that my physical therapists had to create especially for me. I went to physical therapy every week excited to build up my strength and flexibility little by little. The staff was encouraging and excited to see the progress I was making every week. They cared about my personal progress and not about how my progress looked for their clinic. Even after my last appointment the Athletico Novi staff still checks in to see how I am feeling. That is special and not something that most physical therapy offices would do. If it wasn't for the innovation of the physical therapists at Athletico, I would not have gained back the strength and flexibility that is necessary for my sport.
After about four months of physical therapy at Athletico, and eight months post-surgery, I was able to take the field in Spartan Stadium for my last season of baton twirling at MSU. There are no words to describe how thankful I am for all the staff in the Novi office who helped me get back to living my dream at MSU.
Click here to read other patient stories.
Find an Athletico.