Glenn Kubek
March 2016 – Patient of the Month
Glenn Kubek – Physical Therapy instead of Surgery
Baseball Injury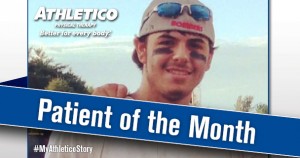 I am 20 years old and play college baseball. Throughout my career, I never sustained a serious injury, until this last summer. While playing catch, I felt a pop in my elbow. My arm became numb and I assumed the discomfort would go away. Unfortunately, it did not. Rather than undergoing surgery, my doctor recommended physical therapy.  In high school, I worked with an Athletico Physical Therapy Athletic Trainer, and immediately contacted her to refer me to the proper therapist. After sharing my doctor's recommendation and a summary of the injury, she referred me to Athletico's Bridgeport location in Chicago, Illinois.
When I arrived for my first day of therapy, I was greeted by the entire staff, and began treatment with Matt Lesniak. For a month, Matt worked with me to get my arm back to complete function and ready to play ball. I had heard that physical therapy could be repetitive and boring, but I enjoyed my time at the clinic. Without surgery, my elbow was able to get back to full function in a comfortable, welcoming environment. Each therapist and staff member remained open to every question and worked with each patient to meet their individual goals
Without Athletico Physical Therapy, I would have sat out my fall season.  Athletico changed my life. My treatment taught me new ways to take care of my arm, and gave me an option beyond surgery and medical bills. I thank the entire staff at Athletico Physical Therapy, Bridgeport from the bottom of my heart. They helped me regain my strength and confidence to play the game I love.
Bridgeport West Clinic | Chicago, IL
Find an Athletico.