Nora Bestor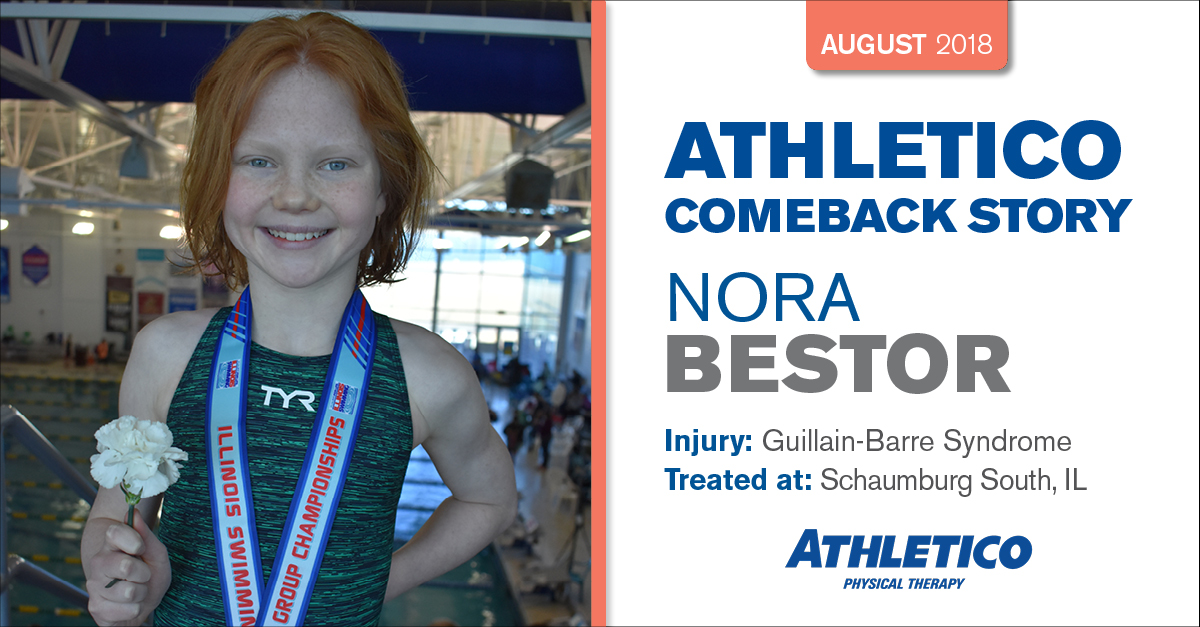 Hi, my name is Nora and I am ten years old. In February I was diagnosed with Guillain-Barre Syndrome. This syndrome occurs when you have a virus and the antibodies that come to attack it also attack your peripheral nervous system. Due to this, I had severe nerve pain, facial palsy and weakness. I lost all my reflexes too. There were days I could barely walk and my legs would give out on me. It made going to school hard. I was not my normal self and felt depressed. I am a state and national qualifier for swim, and was unable to swim in the regional meet. Going to Athletico helped me back to my strong healthy self.  
Before I was diagnosed with the syndrome, I was the strongest, most active girl in my class. Athletico helped me get back to that! They gave me drills to do, but they were always fun! Harsh, My physical therapist at the Schaumburg South clinic, really made my experience great – finding exercises that were fun and challenging. He even made them into games, which my competitive nature loved!  
In the middle of trying to get stronger, I attempted to swim in the state meet. I wasn't 100%, but I didn't want to miss out on what I had been working so hard for! I still didn't have reflexes back, but thanks to PT, I had some strength back and some confidence back to swim my spot in the relay team and helped them place! We got 3rd! It was one of my best moments!! 
Each and every therapist there treats me special. I enjoy going to PT because everyone is kind and they feel like family to me. I have a special handshake with everyone there! Thank you so much Harsh, Nate, Mary, Eric, and Nicole! When I am done, I will miss you all!
– Nora Bestor
Click here to read other patient stories.
Find an Athletico.