Donald Wilson
July 2016: Patient of the Month
Donald Wilson
Knee Replacement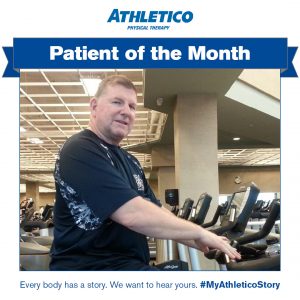 After a full knee replacement I was prescribed home therapy for 3 weeks, out-patient therapy for 5 weeks and CPM machine for 3 weeks. After 12 weeks of rehabilitation, mobility and flexibility just was not happening. Above and beyond what was recommended, I continued to work out regularly to strength my knee. I was referred to Athletico Physical Therapy, by a friend who had a positive experience working with Justin Lohrens at Athletico's Tinley Park location. Exactly three months post-surgery was my first appointment with Athletico. Justin assessed my range of motion at 44 degrees, I continued to be stiff and could not straighten my leg.  Justin, immediately developed a plan to help increase my range of motion. Countless hours were spent with manual therapy techniques and working scar tissue. I will be the first to admit, that I was not the easiest patient to work with as my range of motion continued to be limited. With that said, Justin kept at it, never complained, and took every small win.
With that said, I am happy to share that after 3 months with Justin and his team,  I now am 110 degrees, without a limp and can straighten my leg. All of this could not have happen without Justin's tenacity and professionalism. Today I feel like my life is back on track, thanks to Justin and Athletico Physical Therapy staff at Tinley Park .Thank again to Justin Lohrens. Athletico Physical Therapy and entire Tinley Park staff. You have my full support forever.
Accomplishments post knee replacement include:
Improved my range of motion from 44 degrees to 110 degrees.
November 2016, I plan on participating in Roy Hobbs Baseball World Series Tournament.
I can ride a bike, and walk without limping
To read more of our patient success stories, and see our latest Patient of the Month, click here.
Find an Athletico.