Sara Foster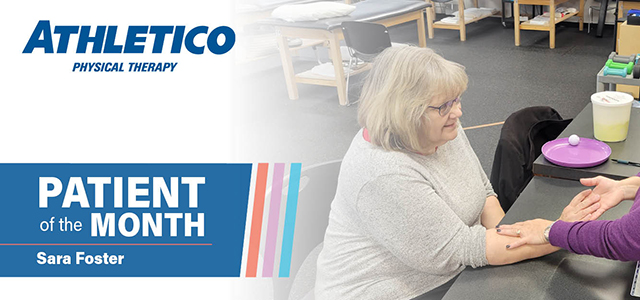 After a fall in June and a trip to the ER, I found myself with what I thought to be a typical right wrist fracture. Still, a bummer since I am right-hand dominant, my job is 90% computer work, and I need both hands to function successfully. Even then, I thought I would heal quickly and planned to return to my normal routine within a few weeks. Unfortunately, two weeks later, I faced surgery, two plates, a bunch of screws, and extensive repair to a pinky tendon. No big deal, or so I thought.
Following surgery, my doctor quickly scheduled physical therapy, and I was referred to Athletico Fenton three days after surgery. I was assured I would receive quality care, yet I still didn't understand the full scope of what was to become a long recovery path. The first few weeks, I found I had to come to terms with not being able to do even small movements, and the inability to move those silver balls in the palm of my hand brought me to tears. Within a few weeks, I began to trust the therapy path of my therapist, Shelia, OTR/L, CHT. Shelia not only provided expert quality therapy, but she reassured me repeatedly that I would regain strength and mobility when I felt hopelessly lost in this new world of hand physical therapy.
Now 143 days after the incident, and with the guidance of my therapist, I am back to my normal routine. I had my own celebration and can't really explain how ecstatic I felt and very grateful to return to my normal work routine, but also thankful for the smaller wins like making a fist, turning a doorknob, opening a water bottle, and so on. Thank you, Sheila. Thank you, Jeff, Allie, Marissa, Adam, and many others at Athletico Fenton, for your quality care and compassion. What you do matters!
Click here to read other patient stories.
Find an Athletico.