Lindsey Cavlovic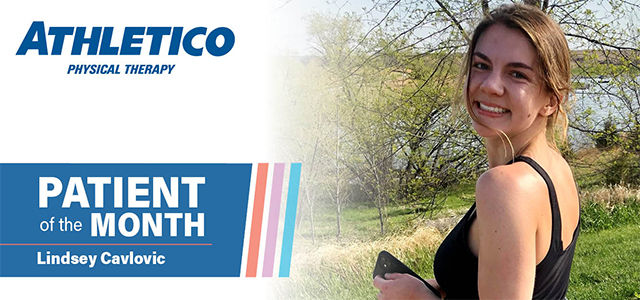 On Sunday, June 6, 2021, my life forever changed. I was hit as a pedestrian by a Cadillac Escalade when I was crossing the street. I sustained 2 traumatic brain injuries (subdural hematoma and subarachnoid hemorrhage), a collapsed left lung, and the following fractured bones: 12 left ribs, right cheekbone, occipital condyle, left ulna, 2 on right pubic bone, left tibia, shattered left fibula, displaced right toe, and 3 lumbar vertebrae. My left ACL was torn, and I had lacerations on my left kidney, spleen, and liver. I had perihepatic and perisplenic hematomas. I had run a 10k race the day before the accident, and now I couldn't move. I underwent multiple surgeries during my time in the hospital, followed by time as an inpatient at Madonna Rehabilitation Hospital.
In the 8th week following my accident, my parents wheeled me into my first appointment at Athletico Omaha West Center. I was terrified. I hadn't moved in 8 weeks. You name a body part, and it probably hurt. I was afraid of not being able to move the way I had before the accident. My physical therapist, Kris Johnk, told me we were going to take it slow. I thought I would be able to just take a step like before and it would feel normal again. I soon found out the body doesn't work like that. Kris had me start with some "basic" exercises, and to my surprise, they were very challenging. I felt discouraged and thought, "Well, looks like this is going to take a lot longer than I thought." Kris instructed me to take my first step. To my surprise, I couldn't. My brain was telling my body to take a step, but my body just wouldn't. With Kris' instruction and encouragement, I kept on trying. Finally, I took my first steps in 8 weeks at Athletico in July of 2021, as my parents sat near and cheered me on.
In that first physical therapy session, I felt overwhelmed with joy and excitement because I had (literally) just taken the first steps to getting my life back. These feelings have continued throughout my recovery journey with Athletico. During the following months, I worked on building up strength throughout my entire body. As time went on, I began to specifically target my left quadriceps in preparation for ACL surgery I was to have in December.
When I first started physical therapy, I thought I would be making all these tangible "gains" and reach big, monumental goals. What I learned is that no matter how "small" you think something you achieve is, it's not small. The work I've done and continue to do at Athletico has created a brick foundation upon which I can build my recovery journey. No matter how discouraged I feel on a given day, I always achieve something new during an appointment. Those first months following the accident were filled with lots of seemingly "little" wins that in the end made some really "big" wins possible.
After my ACL surgery in December, I continued physical therapy at Athletico with Kyle Larsen. My ACL was the one thing keeping me from running, and I was ready to push my limits so I could run as soon as possible. During my first appointment after surgery, I couldn't lift my left leg despite all the strength I had built up prior to surgery. Again, I felt discouraged. I thought, "I've come this far, and I prepared all that I could, and now I'm starting back from square one? This isn't fair." Kyle picked up on my frustrations, and he educated me about why my leg wasn't moving, even when my brain was telling it to. That alone took away much of my anxiety and allowed me to continue pushing myself. Before I knew it, I was lifting my leg without a problem and able to walk without crutches.
Kyle has been instrumental in my recovery from ACL surgery. Usually after an ACL surgery, the patient can't run until a minimum of 16 weeks. Kyle knew all I wanted to do was run again, so he knew when to pull in the reigns when I got too ahead of myself. During my appointments, Kyle continually educated me about why the exercises are important and which pain is and isn't OK to push through. His knowledge of current research, namely nerve desensitization in pain management, helped me to recover much quicker than is usually expected. Because of this, I was able to complete the return to running protocol after 12 weeks instead of 16. I got the OK to run, and it felt like a dream. On 6/6/22, the year anniversary on my accident, I was able to run 6.6 miles, just 24 weeks after my ACL surgery.
Athletico has given me my life back. I've gone from taking my first steps out of a wheelchair to my first steps running again 33 weeks later. My recovery would not have been possible without Athletico. Kris and Kyle have such wide ranges of knowledge, paired with creative minds to keep physical therapy fun, yet challenging. Without them, my recovery wouldn't have been possible. I appreciate my body so much more than I ever have because of what they've shown me it's capable of. Because of my time at Athletico and throughout my recovery journey, I've learned to appreciate all my achievements, no matter how big or small they seem. It's easy to look to the future and think about all the things I have left to do before I achieve more goals. Now when I feel like that, I find myself looking back at everything I've achieved and feeling proud. Thank you to Kris, Kyle, and Athletico for helping me to achieve more than I ever thought possible and for giving me my life back.
Click here to read other patient stories.
Find an Athletico.