Victor Montoya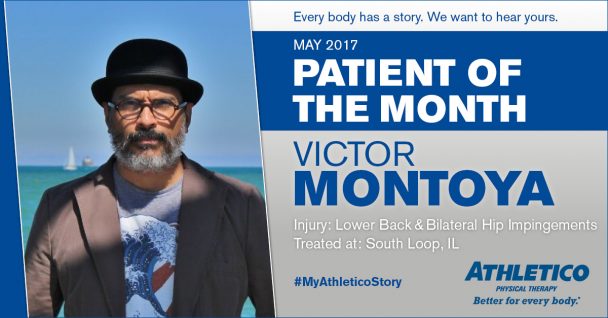 My name is Victor Montoya and I have been a patient at Athetico several times for nearly two decades and have received excellent service every time. My most recent stint in rehab is at Athletico South Loop here in Chicago and my therapist is Kelli Barton.

I required extensive physical therapy for lower back issues as well as bilateral hip impingements. On my first visit, Kelli was very professional, listened astutely, asked the right questions and provided not only the physical support but psychological as well. While my injuries have accrued over the course of my career as a police officer, she took a holistic approach and initiated the therapy regiment that my doctor requested and modified accordingly whenever necessary.

Post surgery, Kelli was sympathetic yet encouraging when I fell behind. Her dedication to my specific health issues remain exemplary and she should be commended for going above and beyond for her services. Athletico shall be my first choice in rehabilitation for the forseeable future and I have no reservations whatsoever that the Athletico staff is thoroughly equipped to help. Kelli is an amazing therapist and redefines integrity and compassion every visit. Your company is truly very fortunate to have her. Thank you and keep up the great work!
Click here to read other patient stories.
Find an Athletico.