Laura Doherty
November 2016: Patient of the Month
Laura Doherty
Bunions
St. Charles, Illinois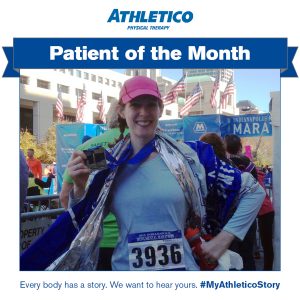 My name is Laura, and since I was about 25 years old I have dealt with the pain of bunions on both sides of both feet. In 2013, after 5-6 years of intense pain and struggle of trying to just be comfortable while still maintaining an active work and leisure lifestyle, I finally had bilateral bunionectomy surgeries, which I needed to live a life without pain.

Before that, however, I had been training to complete my first marathon in 2012. This never happened because I always ended up with an injury or muscle strain due to my overcompensating for my painful feet. Nevertheless, Athletico was always there to help with strategies and recommendations that led to success. After getting back into running and completing my first half marathon since my surgeries, I decided that I would again try to run the Naperville Marathon in November, 2014. During my training, I overcompensated for feet and legs that were still underconditioned, AGAIN, only this time my work life was affected by my injury in that I was experiencing pain while walking. Since I work with children in Early Intervention, Illinois' birth-to-three program, I need to be able to move frequently in order to keep up with my kiddos! Athletico was there to bring me back to normal!

My PT, Matt, was awesome and made sure I was able to function to the best of my ability so that I could feel comfortable again at work and complete my goal of running a marathon! The Athletico staff helped me be able to walk and run safely and effectively so that I don't overcompensate for weak muscles and risk more injuries.

Since I COMPLETED my first marathon (Naperville, 2014), I was able to set a personal record during my SECOND marathon (Indianapolis Monumental Marathon, 2015) by trimming 30 minutes off of my first completion time! Using what I learned during my course of therapy at Athletico, I was able to train better and challenge myself more!  While I won't be running any marathons in 2016, I will be entering a "marathon" of a different sort this November – motherhood.  I am so happy to have been able to get my body into proper form so that I will be able to keep up with my own little kiddo!

Thank you, Athletico!
To read more of our patient success stories, and see our latest Patient of the Month, click here.
Find an Athletico.