Michael Ferconio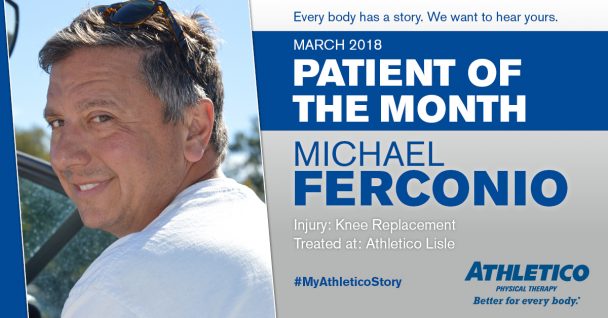 I recently underwent a complete knee replacement. My surgeon from Rush Orthopedics recommended Athletico for my rehabilitation. At the time, all rehab facilities looked the same to me. Six weeks later, I now know better and could not be happier with this choice.
During the few days prior to my surgery, I watched 20-30 YouTube videos and believed that I had an effective plan to get my range of motion and strength back. I started therapy the morning after my surgery. After two weeks of therapy with Erin Avery (and the rest of the team) in Athletico's Lisle facility, I realized there was much more to rehabbing my knee than simply following the eight exercises that I saw demonstrated on YouTube. Candidly, I am not able to explain the process in detail, but I have learned that therapy includes the proper balance of increasing range of motion, strengthening, getting ample blood flow to key muscles, massaging, etc.
At the time of this writing, it's been 43 days since my first surgery. My strength is 90 percent of where it was measured prior to my surgery. I can straighten my knee to 0 degrees and bend it back to 136 degrees. Even my surgeon is very impressed with my progress. I am undergoing surgery on my second knee in the morning and will certainly be back at Athletico the morning after.
Click here to read other patient stories.
Find an Athletico.