Adam White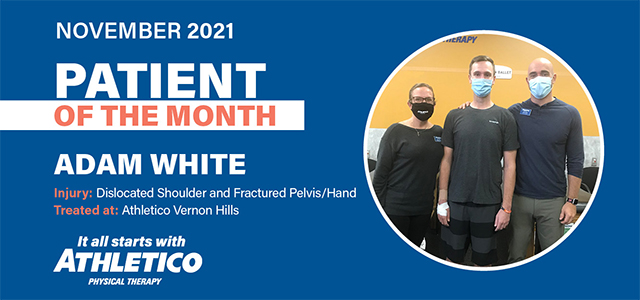 My experience and time at Athletico in Vernon Hills has been nothing short of amazing. I have been doing Physical Therapy for several weeks and in a short amount of time I have been able to make some great strides thanks to the knowledge, experience and communication of the team at Athletico. My accident and injuries were pretty severe, I was not able to walk or bear weight on my right leg and had to use a wheelchair and then a walker to get around.
The team at Athletico started working with me to help strengthen and stretch my leg and ankle while being mindful of the injury. The team was able to tell me what I could expect in the coming weeks which gave me piece of mind and helped me prepare for the road ahead. Once the weight restriction was removed the team really started to focus on re-gaining the strength in my leg. They are always focused on helping me achieve and reach the goals we set together, and I am confident with their help, support and knowledge I will be able to reach those!
Click here to read other patient stories.
Find an Athletico.