Michael Affeldt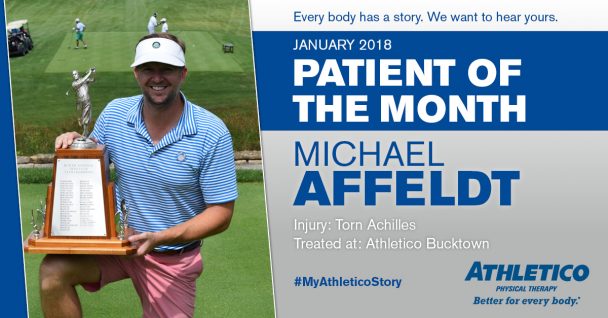 A friend of mine knew how much I loved to play basketball, so he invited me to play on his league team. I had not played full court semi-competitive basketball in about 4 or 5 years, but was really excited to get back at it.
I got to the LPHS gym early on February 4th, warmed up, stretched and shot around – I felt great! Then it happened. Running down the left wing on a 3 on 2, I went to flash into the lane and BAM! Down I went. I immediately looked behind me as I was sure someone stomped on my heel, but there was no one there. Instantly I knew I had torn my Achilles.
I opted for surgery at Rush on February 10th with Dr. Simon Lee (he is THE man). On the court, my brain thinks I am 20, but my body says, "nope, you're 40." The first six or so weeks post-surgery were tough; rest and recovery are vitally important at this stage. I called Athletico's CEO and President Mark Kaufman and was determined to get through this better than ever. He sent me to Amy Malone and the Athletico Bucktown team. As much as I love hoops, I love golf even more, and still stay relatively competitive. At first I was fearful this injury would hamper my golf not just this season, but future seasons. Then I met Amy. She put together a plan and I stuck to it. In the beginning, I was going in 2-3 times a week, and toward the end just once a week. As I write this, I cannot believe the progress I have made in six months.
There is still work to do, but no chance I am where I am today without Amy and the Athletico Bucktown team. Be forewarned however, there are Ohio State Buckeyes at that location. Despite what you may think, they are fully capable of getting you on the road to recovery. Thank you Amy and Athletico Bucktown!
Click here to read other patient stories.
Find an Athletico.