Brian Stevens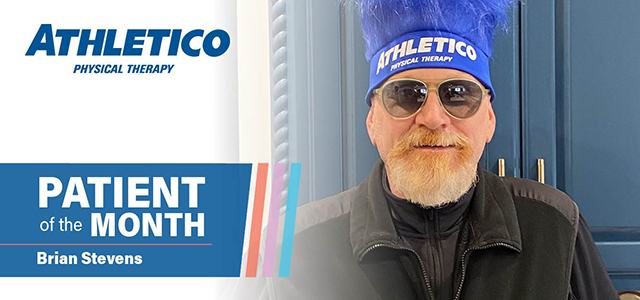 On March 9th, 2022, I got an MRI of my brain knowing that something wasn't right. Within 30 minutes I was diagnosed with a brain tumor, so I was on the trail for immediate treatment. The tumor was hemorrhaging so things happened quickly needless to say. Within 48 hours I went through numerous scans and tests leading to eventual removal of the main tumor in my brain. It left me with limited mobility of my right arm and leg as well as weakness. I knew that it would require rehab so dealing with my local Athletico and physical therapist, Craig, was my obvious choice. At my initial assessment Craig asked my goals and I immediately told him they were to get back to seeing patients and be able to play golf again. Craig immediately put together a plan and we got to work.
I have gone from walking with a cane to maintain stability on my initial visit to lifting weights on a bosu ball (balance ball). My therapy has been tough at times, but it has been well worth it. When Craig would give me things to do at home, I definitely did them. I had the determination to get back on my feet to as normal of a lifestyle as I could. I was unable to drive myself, shave, walk without assistance just to name a few things. The things that most of us take for granted.
After four months, Craig has me to the point that I have been able to return to seeing patients on a half-day schedule, and I have been able to play golf with my oldest son. Without their help, I wouldn't be where I am today. I still have a long road to travel but I owe Craig and his Athletico Cape Girardeau staff a big thanks for helping me reach my goals so far.
Click here to read other patient stories.
Find an Athletico.