Madison Steskal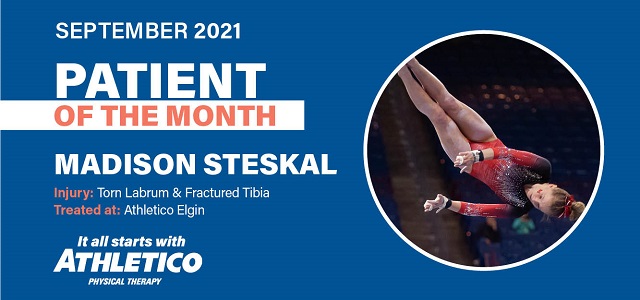 Near the end of my sophomore year in 2019, I partially dislocated my shoulder at gymnastics practice, and wasn't able to compete at my state competition. After being referred to the Athletico in Elgin, I was taken care of and was given the exercises that helped me get back to 100% at gymnastics! Thanks to physical therapy, I was able to get to a point that got me recruited for college gymnastics.
Later during the summer of 2020, my shoulder started bugging me again, and it turns out I had a tear in my labrum (same shoulder). I got surgery in October and started my recovery process at Athletico! Everything was going well, my shoulder was getting better and I was getting back into gymnastics. In February of 2021, I broke the tip of my tibia by my left knee, and two days after my visit to the emergency room, I left the hospital with 3 screws in my leg.
So not only was I going to physical therapy for my shoulder at this point, but also for my fractured leg. The staff at Athletico did everything they could to help me recover as fast as possible, and everyone was so encouraging along the way. I've gone from not being able to hang on a bar to swinging and doing flips off the uneven bars at gymnastics. I've gone from barely being able to walk to lifting weights and doing high impact exercises. I'm happy to say now that I am off to college, my shoulder/knee both feel strong and prepared for the work that comes with being a college athlete.
Find an Athletico.