Carl Carlson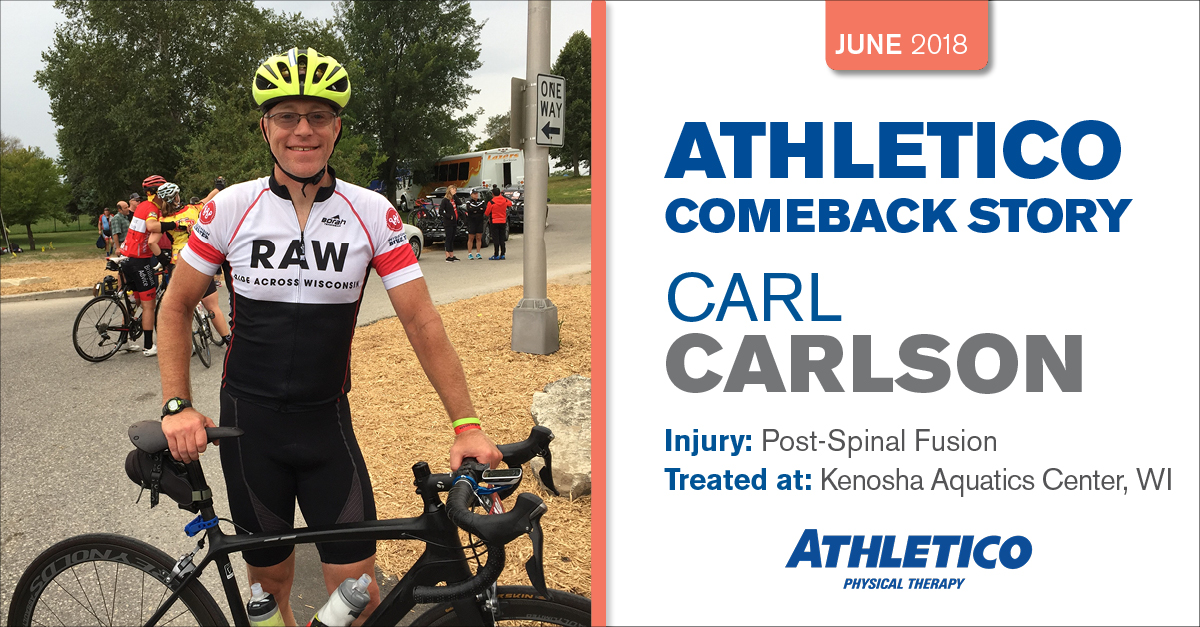 Jenna, Jen, Gonny, Dan and Jackie –
I wanted to take a moment to thank you ALL for your outstanding care after my L5-S1 spinal fusion last November.
I don't know if you realize how anxious I was coming back from that surgery, but thanks to the wonderful atmosphere you have fostered at your facility, and the attention that you paid listening to my goals and needs, I don't think I could have been in better hands.
I'm happy to report that, thanks to a phenomenal, customized therapy plan, not only was I able to return to active duty on the Kenosha Fire Department four months post-surgery, I've also met several of my personal fitness goals as well!
In early August I completed the MD Bike Tour where I did back-to-back 100 mile rides over two days. At the end of the month I completed the Ride Across Wisconsin, a 178 mile ride from Dubuque, IA to Kenosha WI (and set a personal record of under 10 hours!) With cycling season coming to an end, I've also come back to my first love, and have begun running again. Best yet, I'm doing all of these activities pain-free.
Using many of the techniques and concepts I learned while in therapy, I've focused on developing a stronger core as the foundation of all these activities. I'm also incorporating slower, balance-oriented movements to emphasize Form with Function. With any luck maybe I'll be nailing free-standing handstands by the end of the year…!
Thanks again,
Carl Carlson
Click here to read other patient stories.
Find an Athletico.